New Website Targets Middle School Teachers and Students to Study Native Responses to Environmental Challenges
Smithsonian Museum Partners with Tribal Communities to Launch Education Website
August 11, 2011
News Release
Addthis Share Tools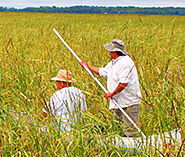 Developed in collaboration with the Akwesasne Mohawk of northern New York, the Campo Kumeyaay Nation of southern California, the Leech Lake Band of Ojibwe of northern Minnesota and the Lummi Nation of Washington state, the Smithsonian's National Museum of the American Indian launches a new educational website, "American Indian Responses to Environmental Challenges," that will target middle and high school teachers, students and the general public. View the site at www.AmericanIndian.si.edu/environment. Users can see how tribes use their traditional culture, values and indigenous knowledge in combination with contemporary science and technologies to inform their environmental work.
One of the primary objectives is that students everywhere will see a connection to their own lives and the communities in these stories. Visitors to the website can watch up to 20 videos, explore images and objects from the museum's vast collection, learn Native terms and take quizzes to test their knowledge. An interactive feature, the Story Project Planner, allows students to document an environmental issue in their own community and upload their work for display on the website.
While the content is primarily designed for middle and high school students, it can easily be adapted for use in other grade levels and includes lesson plans and additional resources for teachers. The lesson plans meet National Standards for social studies, history, science education and environmental education at various grade levels. It is also a great resource for anyone interested in the histories, cultures and contemporary lives of American Indians in the U.S.
The website is one component for a pilot project that will help further develop the museum's overall outreach program for schools nationwide. Museum staff interviewed more than 150 people, including cultural leaders and elders, tribal government representatives, natural resources professionals, scientists, as well as college instructors, elementary and high school teachers and students. As part of its ongoing collaboration with the featured communities, the museum will offer training and evaluation sessions to teachers who serve the tribal students.
"Many people think of American Indians only as historical figures, but we are still here, vital communities dealing with important contemporary issues of cultural, economic and environmental sustainability," said Kevin Gover, director of the museum.
For thousands of years, Native American communities across the Western Hemisphere have thrived on, respected and protected their surroundings. Continued stewardship of the environment remains important to American Indians today. "The work these tribes are doing shows that we can do something about our endangered planet, and that their cultures are still vibrant and adaptable," said associate director for museum programs Tim Johnson (Mohawk). "With this website, we hope to not only bring attention to their work, but begin to change the way that students see American Indian people."
# # #
SI-353A-2011