"Native Sounds Downtown!" Features Rock, Blues Music
Free Concerts in July, August Showcase Popular Native American Musicians
July 15, 2015
News Release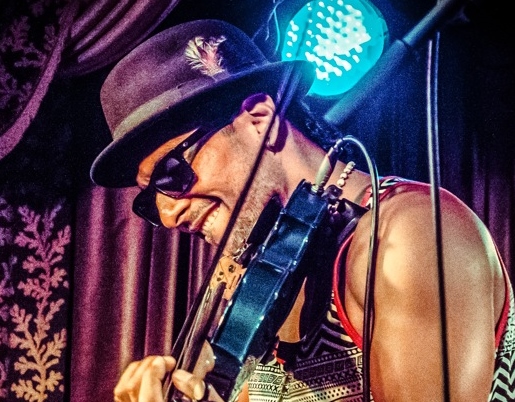 It is the height of summer—time for the annual "Native Sounds Downtown!" concert series at the Smithsonian's National Museum of the American Indian in New York. This year's installments feature performances from singer and talented instrumentalist Quetzal Guerrero, better known as "Q Violin" or "the man with the blue violin," and the popular musical groups Dark Water Rising and The Ollivanders.
The concert series begins July 23 at 6 p.m. with Q Violin, who will perform outside of the museum on the cobblestone just south of Bowling Green Park, and continues Aug. 27 at 6 p.m. with performances by Dark Water Rising and The Ollivanders in the Diker Pavilion for Native Arts and Cultures. Both concerts are free. In the case of inclement weather, Q Violin's performance will also take place in the Diker Pavilion.
Guerrero's heritage reflects Native American, Mexican and Brazilian ancestry. His music incorporates many musical genres and includes Latin fusion, jazz, blues and his famed hip-hop violin. Guerrero studied violin at the International Academy of the Suzuki Method in Matsumoto, Japan, and the Conseravatório Pernambucano de Música in Recife, Brazil. He credits his inspiration to artists such as Sting, Jimi Hendrix and Santana. His most recent album Coiza Boa was released in 2011.
Dark Water Rising is a collaboration between members Charly Lowry (vocals/rhythm, guitar/percussion), Aaron Locklear (keys/guitar/drums), Corey Locklear (lead guitar), Tony Murnahan (bass) and Emily Musolino (vocals/lead guitar/bass). The artists are members of the Lumbee and Tuscarora Nations and describe their sound as "rocky soul," having been influenced by Aretha Franklin and Lynyrd Skynyrd, among others. In November 2014, the group earned a Native American Music Award for "Best Gospel/Inspirational Recording" for their work on the 2013 album Grace & Grit: Chapter I.
In an interview for The Fayetteville Observer, Lowry, lead vocalist of Dark Water Rising, noted, "In some songs we touch lyrically on issues that are prominent in Indian Country. There may be a few songs where we incorporate the Native beat that you hear in powwows, but we never say, 'Let's do a Native song.' It just comes out as a reflection of who we are."
The Six Nations-based rock band The Ollivanders will open for Dark Water Rising. Its members are Martin Isaacs (lead vocals/guitar), Ryan Mickeloff (drums) and Ryan Johnson (bass/backup vocals); they have performed with each other since high school and also recently earned a Native American Music Award for "Best Rock Recording" for their album Two Suns.
For additional information about the National Museum of the American Indian in New York, visit www.AmericanIndian.si.edu. Follow the museum via social media on Facebook, Twitter (@AmerIndianNYC) and Instagram (@Smithsonian_NMAINY) and join the conversation using the hashtag #NativeSoundsDowntown.
# # #
SI-340-2015