National Postal Museum Announces Nomination Process for Smithsonian Philatelic Achievement Award
Award To Recognize U.S. and International Philatelists
January 19, 2023
News Release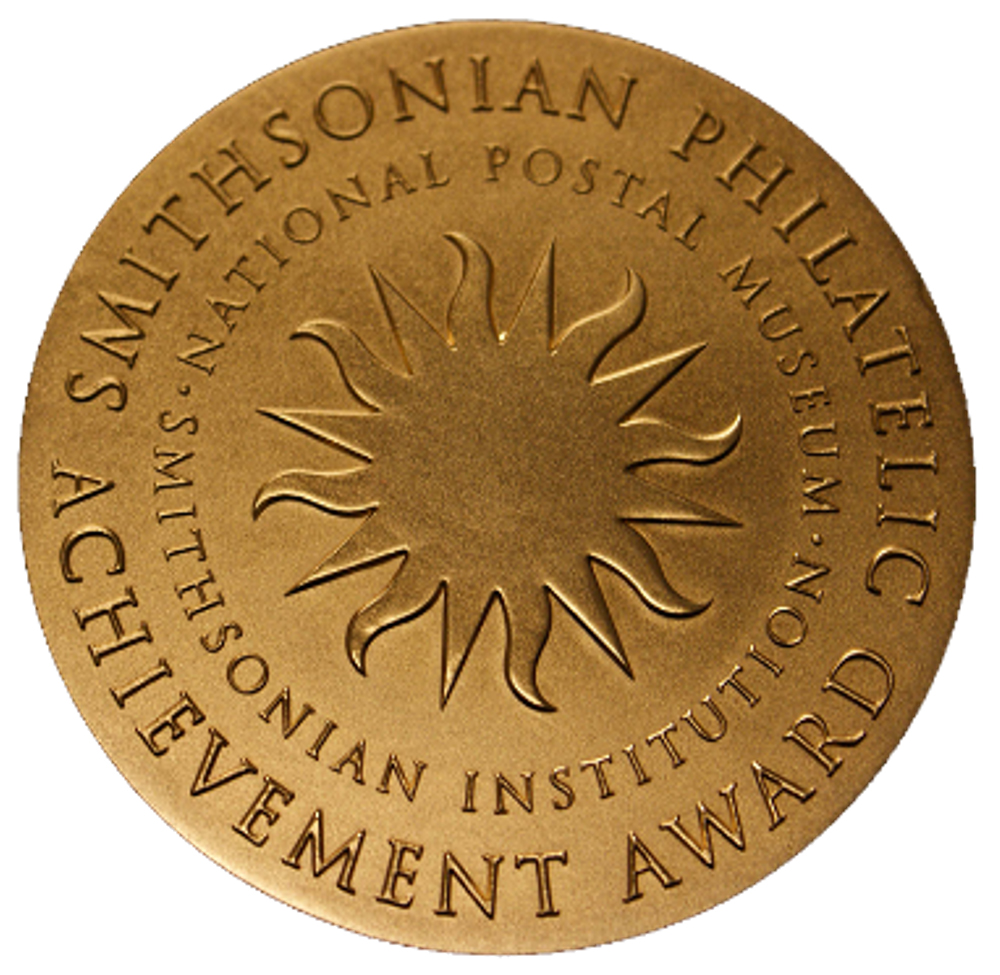 The Smithsonian's National Postal Museum today announced the opening of the nominating process for the 2023 Smithsonian Philatelic Achievement Award (SPAA). The Smithsonian award will recognize philatelists from the U.S. and international philatelic communities. The nomination process is open Jan. 19 through March 1. Award winners will be honored at a museum-hosted gala event in Washington, D.C., Nov. 4.
The SPAA was established in 2002 to honor and celebrate living individuals for outstanding lifetime achievement in the field of philately. This achievement may include original research that significantly advances the understanding of philately, exceptional service to the philatelic community or sustained promotion of philately to the benefit of current and future collectors.
The SPAA medallion is a 3-inch, gold-plated bronze disc depicting a sunburst with eight straight and eight wavy rays. Derived from the family coat of arms of James Smithson, founding benefactor of the Smithsonian, the sunburst became the Institution's official seal June 3, 1966, and is incorporated into the official flag flown by Smithsonian facilities and Smithsonian-sponsored expeditions throughout the world. As such, it is a universally recognized symbol of enlightenment and learning that links the Smithsonian's history with its future. The medallion is suspended from a grosgrain neck ribbon in Smithsonian blue and yellow.
Eligibility criteria and information about the entry and judging processes can be found on the museum's website. Award winners will be approved by the Smithsonian Board of Regents, consisting of the chief justice of the United States, the vice president of the United States, three members of the United States Senate, three members of the United States House of Representatives and nine citizens.
About the Smithsonian's National Postal Museum
The National Postal Museum is devoted to presenting the colorful and engaging history of the nation's mail service and showcasing one of the largest and most comprehensive collections of stamps and philatelic material in the world. Through the preservation and interpretation of our postal and philatelic collections, the Smithsonian's National Postal Museum educates, challenges and inspires its audiences on the breadth of American experiences. It is located at 2 Massachusetts Ave. N.E., Washington, D.C., across from Union Station. The museum is open daily from 10 a.m. to 5:30 p.m. (closed Dec. 25). For more information about the Smithsonian, call (202) 633-1000 or visit the museum website at www.postalmuseum.si.edu.
# # #
SI-20-2023