National Museum of African American History and Culture Receives $20 Million Gift From Robert F. Smith
September 19, 2016
News Release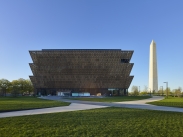 The Smithsonian today announced a gift of $20 million from Robert F. Smith to support the National Museum of African American History and Culture. This is among the largest gifts to the museum by an individual. Smith is the founder, chairman and CEO of Vista Equity Partners, an investment firm focused on enterprise software. 
The personal gift from Smith will support the museum's digitization program as well as community outreach and curatorial initiatives. In recognition of his generosity, the museum will designate its Explore Your Family History Center as the Robert F. Smith Explore Your Family History Center. Through its Community Curation project, the center will help ensure that the stories and contributions of all African Americans—not just the famous—will be captured and accessible for posterity. It will also inspire and train the next generation of curators who will weave together and strengthen the fabric of African American history. 
"Robert F. Smith has been a trailblazer in the world of finance and technology, and he is now bringing his resources and expertise to empower, engage and enliven the African American community to embrace its history and culture," said Lonnie G. Bunch III, founding director of the museum. "Robert's gift exemplifies his commitment to increasing access to opportunity, recognizing the potential in each of us and his respect for our past."
"I am thrilled to bring the transformative power of technology to celebrate and conserve the African American experience in America," Smith said. "It is so fitting that this beautiful building on the National Mall, where Martin Luther King stood just steps away during the March on Washington, will serve as a living tribute and custodian of our rich history." 
About Robert F. Smith
Smith is the founder, chairman and CEO of Vista Equity Partners. Vista exclusively focuses investments in enterprise software and currently manages equity capital commitments of approximately $26 billion and oversees a portfolio of more than 30 software companies that employ over 30,000 employees worldwide. Smith trained as an engineer at Cornell University, and following his MBA from Columbia Business School, worked at Kraft General Foods, where he earned two patents, and then joined Goldman Sachs in 1994 in tech investment banking, first in New York and then in Silicon Valley. Smith started Vista Equity Partners in 2000. 
Through his philanthropy, Smith has exemplified his leadership as a champion for onboarding minorities for economic empowerment and access to opportunity. Smith is chairman of Carnegie Hall, chairman of Robert F. Kennedy Center for Human Rights and founding director and president of the Fund II Foundation. He also serves on the Board of Overseers of Columbia Business School, as a member of the Cornell Engineering College Council, and as a Trustee of the Boys and Girls Clubs of San Francisco. In January 2016, Cornell University honored Smith's leadership by naming the Robert Frederick Smith School of Chemical and Biomolecular Engineering.
About the National Museum of African American History and Culture
The National Museum of African American History and Culture will open Sept. 24 on a five-acre site adjacent to the Washington Monument. The Smithsonian's 19th museum will be a place where Americans can learn about the richness and diversity of the African American experience. The museum will open with 12 inaugural exhibitions to cover major periods of African American history, including the slave trade in the 18th century, segregation, the civil rights movement, the Harlem Renaissance, the great migrations North and West and the election of the nation's first African American President in 2008. 
# # #
SI-476-2016