National Air and Space Museum Welcomes First Coast Guard Aircraft
Helicopter Flew Some of the Service's Most Dramatic Missions
April 14, 2016
News Release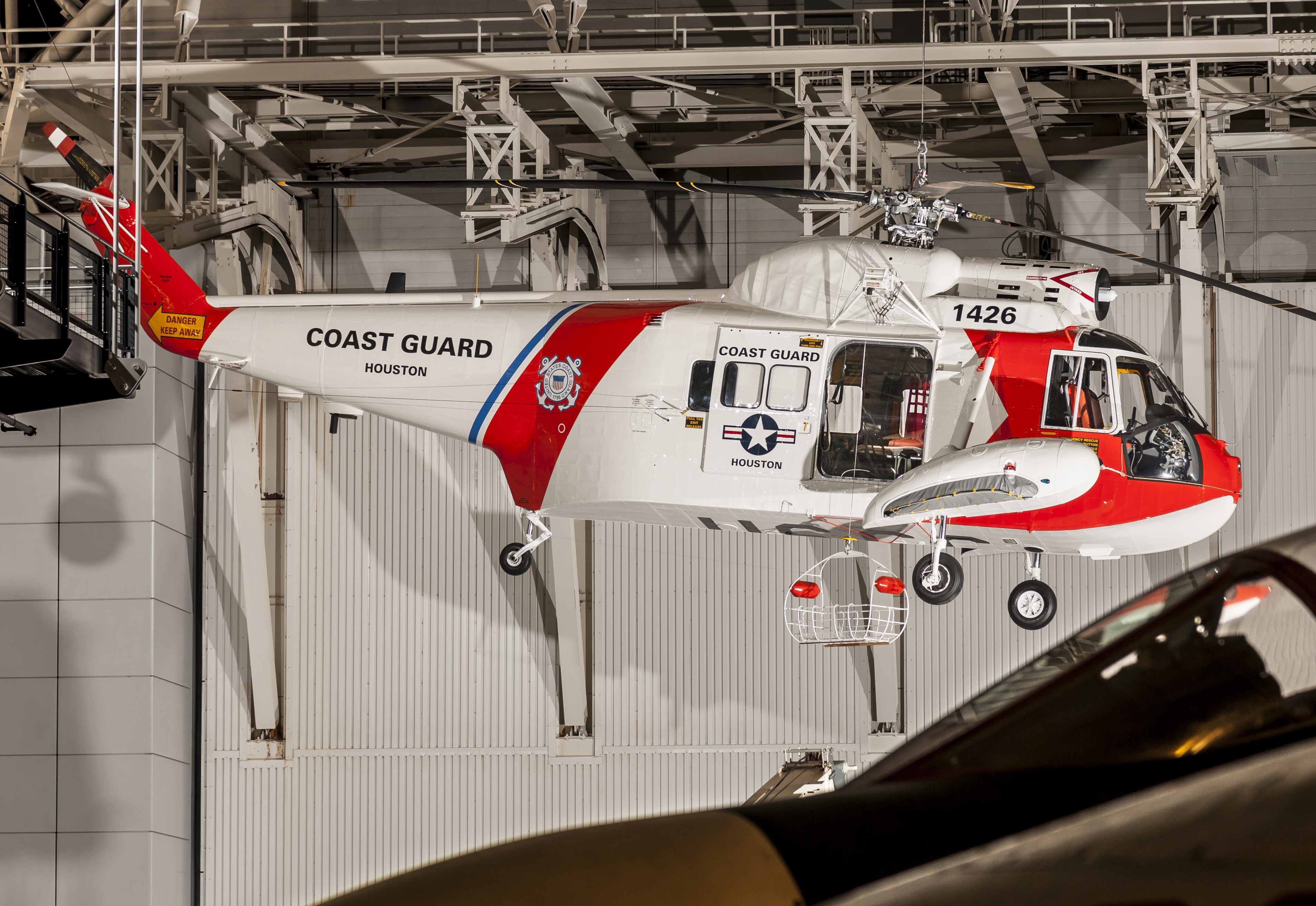 The Smithsonian's National Air and Space Museum has acquired its first United States Coast Guard aircraft. The Sikorsky HH-52A Seaguard helicopter is now on permanent display in the Boeing Aviation Hangar of the museum's Steven F. Udvar-Hazy Center in Chantilly, Va.
The aircraft, tail number 1426, completed 12,619 flight hours in 22 years of service. It participated in several significant missions including the 1969 rescue of 104 school children from a burning ship near Tarpon Springs, Fla., and the dramatic rescue of 22 survivors of the fiery, pre-dawn collision of the Burmah Agate and the Mimosa in the Gulf of Mexico in 1979. "1426 lets us showcase the Coast Guard's critical life-saving role for the first time," said Roger Connor, curator of the museum's Vertical Flight collection.
"While the National Air and Space Museum has long recognized the importance of the Coast Guard, the museum has never before had the opportunity or resources to acquire and display an appropriate Coast Guard aircraft," Connor said. "After an 11-year effort, we are finally able to do that, conveniently in conjunction with the centennial of Coast Guard aviation—celebrating April 1, 1916, when the Coast Guard's first aviator, Elmer Stone, reported for flight training with the Navy in Pensacola, Fla."
The aircraft underwent 18 months of restoration at the Coast Guard Aviation Logistics Center in Elizabeth City, N.C. The final assembly was completed in the Udvar-Hazy Center's Mary Baker Engen Restoration Hangar.
The National Air and Space Museum building on the National Mall in Washington, D.C., is located at Sixth Street and Independence Avenue S.W. The museum's Steven F. Udvar-Hazy Center is located in Chantilly, Va., near Washington Dulles International Airport. Attendance at both buildings combined exceeded 8 million in 2015, making it the most visited museum in America. The museum's research, collections, exhibitions and programs focus on aeronautical history, space history and planetary studies. Both buildings are open from 10 a.m. until 5:30 p.m. every day (closed Dec. 25).
# # #
SI-192-2016