National Air and Space Museum Extends Its Popular Virginia S.H.E. Can STEM Camps in Arkansas
Free Aviation-Focused Camp Aims To Engage Underrepresented Communities
February 2, 2022
News Release
Addthis Share Tools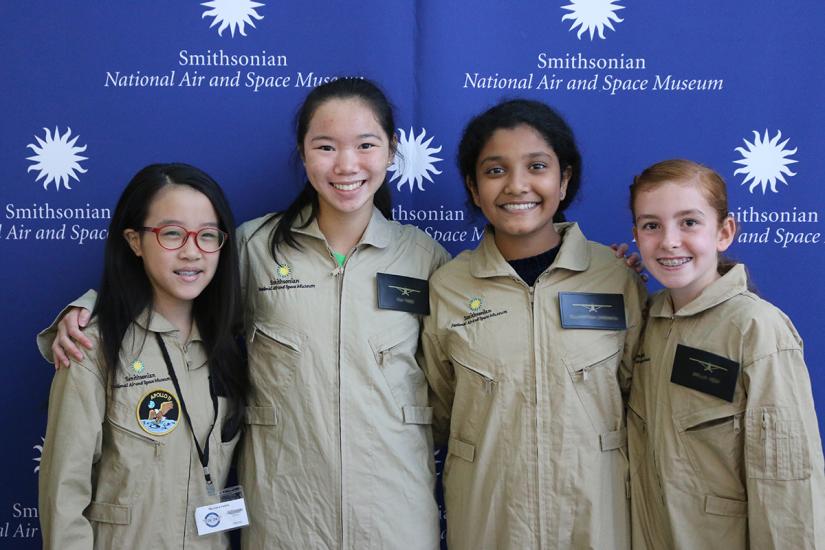 The Smithsonian's National Air and Space Museum will extend its popular S.H.E. Can STEM camps in Arkansas this spring and summer. The camps are designed for students with an interest in aviation and seek to empower young women to succeed in STEM (science, technology, engineering and mathematics) disciplines. Open to sixth- through eighth-grade students in northwest Arkansas, this free, aviation-focused experience will provide access to students that reflect underrepresented populations in aviation thanks to a grant from the Walton Family Foundation at the recommendation of Steuart Walton.
A spring and summer camp will be offered to students in Springdale, Bentonville and Fayetteville. The spring-break camp will take place March 19–March 27. Applications are open now and will close Feb. 15. The summer camp will take place June 15–June 28. Applications will open March 7 and close April 30. For more information and to apply, students should visit the She Can STEM Camp website.
The aviation resources located in northwest Arkansas make it an ideal location for the S.H.E. Can camps. The Bentonville Municipal Airport is home to a 22,000-square-foot aviation hub, Thaden Fieldhouse, named after pioneer aviatrix Louise Thaden; a flight school; FAA flight testing center; and numerous unique aviation experiences. The students that participate in the S.H.E. Can STEM Camp take part in a number of aviation activities, including daily STEM-focused design challenges, flight training on simulators and two discovery flights with an instructor, tracking progress and building confidence through personalized flight-log books.
The activities unique to northwest Arkansas will include a behind-the-scenes tour of the Bentonville Municipal Airport, a visit to the FAA in Fort Smith Regional Airport, an inquiry activity that illustrates the tangible connections between art and science at the Crystal Bridges Museum of American Art, a design challenge at the maker space in the Scott Family Amazeum and an outdoor adventure excursion that will show how flying can take them off the beaten path. They will also meet women working in a variety of aviation fields, such as air traffic control, cyber security and commercial aviation.
To learn more about the S.H.E. Can STEM Camp, visit the museum's website.
The Smithsonian's National Air and Space Museum maintains the world's largest and most significant collection of aviation and space artifacts, encompassing all aspects of human flight, as well as related works of art and archival materials. The museum's flagship building is located on the National Mall in Washington, D.C., at 655 Jefferson Dr. S.W. and its Steven F. Udvar-Hazy Center is located in Chantilly, Virginia, near Washington Dulles International Airport.
# # #
SI-33-2022