Muhammad Ali's Gloves on Display at the National Museum of American History
June 6, 2016
News Release
Addthis Share Tools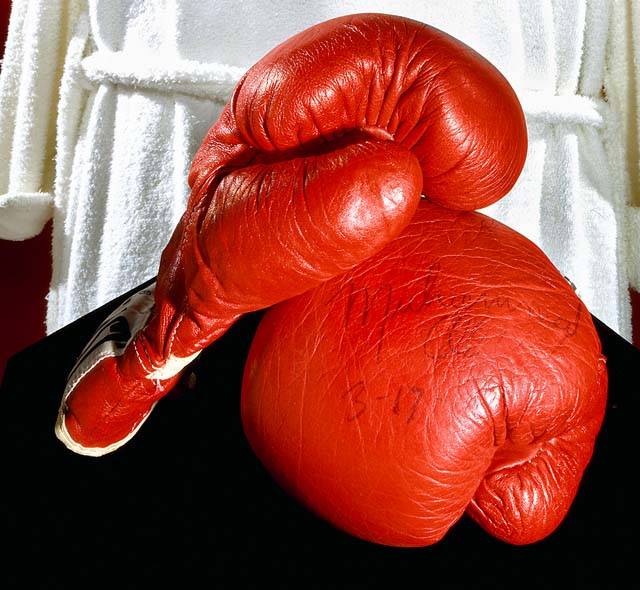 NOTE: Images of the gloves and robe are available for press. The gloves, which are on display in the museum's "American Stories" exhibition, can also be photographed or filmed in the museum. For access, contact Laura Duff at duffl@si.edu.
The Smithsonian's National Museum of American History recognizes the life and legacy of Muhammed Ali (1942–2016), born Cassius Marcellus Clay Jan. 17, 1942, in Louisville, Ky. Ali started boxing when he was 12, winning Golden Gloves titles before heading to the 1960 Olympics in Rome, where he won a gold medal as a light heavyweight. Known as "The Greatest," Ali gained fame for his boxing skills, charisma and the controversy he generated outside the ring.
Ali's gloves are on display to the public in the museum's "American Stories" exhibition. At the 1976 donation ceremony, before a crowd of reporters and cheering spectators, Ali predicted that these signed Everlast gloves would become "the most famous thing in this building." He wore the robe he donated while training for his 1974 "Rumble in the Jungle" and autographed it in 1976.
Ali rose from humble beginnings to become one of the most famous men in the world. His complexity matched the spirit of the tumultuous 1960s. He was at once a boxing titan, a civil rights warrior, an anti-war protester and a charismatic celebrity.
Among his 21-year-career milestones are an Olympic gold medal (1960), his first heavyweight title (1964), his refusal to serve in Vietnam on religious grounds for which he was stripped of his title (1967), his vindication by the Supreme Court (1970), his recapture of the title (1974) and a third title victory (1978).
Ali captured the world's imagination when he challenged undefeated champion George Foreman to a 1974 fight in Kinshasa, Zaire (now the Democratic Republic of the Congo), dubbing it the "Rumble in the Jungle." Ali used his "rope-a-dope" routine to exhaust Foreman until the eighth round, and then burst into an offensive flurry to win the heavyweight championship. Ali lost the title again and reclaimed it an unprecedented third time in 1978. He retired in 1981 with an incredible 59 wins and five losses.
# # #
SI-283-2016