Mike Brown to Sign Copies of His Book, How I Killed Pluto and Why It Had It Coming, at the Smithsonian Jan. 8 and 9
January 5, 2011
News Release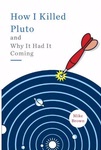 Mike Brown will sign copies of How I Killed Pluto and Why It Had It Coming Jan. 8 from 2 to 4 p.m. at the National Air and Space Museum's main store in Washington, D.C., and at the Steven F. Udvar-Hazy Center's store in Chantilly, Va., Jan. 9 from 2 to 4 p.m. Priority will be given to visitors who purchase the book at a Smithsonian store.
Brown, a professor at the California Institute of Technology, is the astronomer who is most responsible for the 2006 demotion of Pluto from the status of "planet" to "dwarf object." Brown chronicles his discovery of Eris, an object that is farther from the sun but considerably more massive than Pluto, the astronomical debate that spawned from its sighting and Pluto's eventual declassification.
The book is available for $25. Smithsonian Members who purchase it at a Smithsonian store are eligible for a 10% discount.
The National Air and Space Museum is located at Sixth Street and Independence Avenue S.W. in Washington. The Steven F. Udvar-Hazy Center's museum store is located at 14390 Air and Space Museum Parkway in Chantilly, Va.
For more information, the public may call the museum's store at (202) 357-1387. A complete listing of Smithsonian book signings is available at http://bit.ly/hjjwTQ.
# # #   
SI-5A-2011