"The Meade Brothers: Pioneers in American Photography" Exhibition To Open at the National Portrait Gallery June 14
May 14, 2013
News Release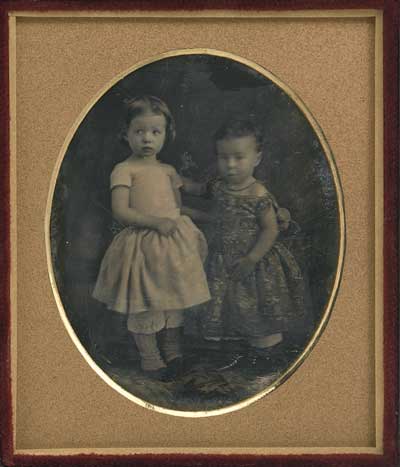 The Smithsonian's National Portrait Gallery will open "The Meade Brothers: Pioneers in American Photography," an exhibition showcasing the lives and careers of 19th-century studio photographers Charles R. Meade and Henry W.M. Meade, June 14.
The Meade brothers, along with their contemporaries such as Mathew Brady and Southworth and Hawes, are recognized as leading members of the first generation of American photographers. This exhibition is thought to be the first dedicated solely to their work.
"This exhibition is a great opportunity to recognize the accomplishments of the Meade brothers and their contributions to American studio photography," said Kim Sajet, director of the Portrait Gallery. "The first generation of studio photographers, such as the Meade brothers, paved the way for this democratic medium to take hold in our culture."
The brothers opened their daguerreian gallery in Albany, N.Y., in 1842, and their business later expanded to other cities. They each traveled to Europe and in 1848, Charles Meade became the first American to photograph Frenchman Louis-Jacques-Mandé Daguerre—the originator of the daguerreotype process. In 1850, the Meade brothers established their flagship American Daguerreotype Gallery on Broadway in New York City, where they photographed such famous subjects as statesman Daniel Webster and entertainer Lola Montez.
The Portrait Gallery's substantial collection of Meade brothers' daguerreotypes will serve as the core of the exhibition. In addition, loans of Meade brothers' objects from public institutions and private collections—including a large-format daguerreotype of Sam Houston and two daguerreotypes of Daguerre—will be featured.
This installation will be open in the museum's gallery dedicated to daguerreotypes June 14 through June 1, 2014.
National Portrait Gallery
The Smithsonian's National Portrait Gallery tells the history of America through the individuals who have shaped its culture. Through the visual arts, performing arts and new media, the Portrait Gallery portrays poets and presidents, visionaries and villains, actors and activists whose lives tell the American story. The National Portrait Gallery, part of the Donald W. Reynolds Center for American Art and Portraiture, is located at Eighth and F streets N.W., Washington, D.C. Smithsonian Information: (202) 633-1000. Website: npg.si.edu.
# # #
SI-175-2013