Hirshhorn Museum Presents Noted Artist and Filmmaker Julian Schnabel for Spring Programming Finale
April 25, 2011
News Release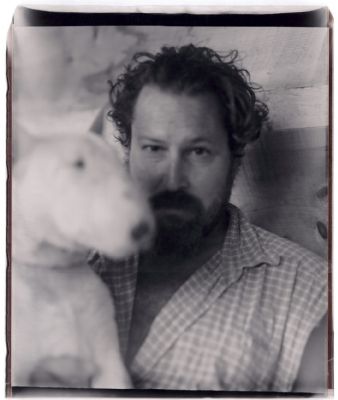 Artist and filmmaker Julian Schnabel will be at the Smithsonian's Hirshhorn Museum May 12 and 13 for a pair of evening events that conclude the museum's spring film series and programming related to "Blinky Palermo: Retrospective 1964–1977," which closes Sunday, May 15. 
On Thursday, May 12, at 8:30 p.m., Schnabel introduces a screening of his award-winning feature The Diving Bell and the Butterfly [Le scaphandre et le papillon] (2007). Schnabel explained a thematic connection among his films in a recent interview with The Washington Post: "What my films are about is somebody trying to communicate and there being some kind of obstacle that's stopping them." 
This is true of The Diving Bell and the Butterfly, based on the memoir of Jean-Dominique Bauby, editor of the French fashion magazine Elle, who at age 42 was stricken with locked-in syndrome, leaving him mentally alert but unable to speak or move. Schnabel's inventive and unsentimental film relates Bauby's will to live, work and connect as he dictates his book letter by letter with blinks of his eye.
On Friday, May 13, at 7 p.m., the final Meet the Artist lecture of the spring celebrates the lasting impact that Blinky Palermo's short career has had on contemporary artists of many different persuasions. Schnabel discusses his recent work in light of his early artistic influences, including his friendship with Palermo, whom he met in New York City in 1974. Before the lecture, visitors have the opportunity to take a last look at the exhibition, which includes a late work by Palermo, "Untitled"(1976), on loan from Schnabel's collection.
Free tickets for both events are available in advance and can be reserved via Eventbrite (http://schnabel.eventbrite.com) beginning Tuesday, April 26, at 10 a.m. Visit hirshhorn.si.edu for more information.
Related Programs
The Hirshhorn offers a range of interactive educational experiences designed to engage people of all interest levels in contemporary art. Friday Gallery Talks are weekly lunchtime chats with artists and scholars that focus on one work or exhibition in depth. The museum's ever-expanding library of podcasts (featured on iTunes in the top 100 Arts and Entertainment podcasts) makes gallery walk-throughs and interviews with artists accessible internationally.
About the Hirshhorn
The Hirshhorn Museum and Sculpture Garden, the Smithsonian Institution's museum of international modern and contemporary art, has nearly 12,000 paintings, sculptures, photographs, mixed-media installations, works on paper and new media works in its collection. The Hirshhorn presents diverse exhibitions and offers an array of public programs that explore the art of our time. Located at Independence Avenue and Seventh Street S.W., the museum is open daily from 10 a.m. to 5:30 p.m. (except Dec. 25). Admission to the galleries and special programs is free. For more information about exhibitions and events, please visit hirshhorn.si.edu. To request accessibility services, please contact Kristy Maruca at marucak@si.edu or (202) 633-2796, preferably two weeks in advance.
# # #
SI-174-2011