Hirshhorn Announces Fall Season of "Talking to Our Time"—Online Conversations With Renowned Global Artists
Following an Engaging Summer Season, Museum Extends Free Online Artist Talks, Featuring Deborah Roberts, Zoe Leonard and Sterling Ruby Sept. 16–Dec. 16
September 15, 2020
News Release
Addthis Share Tools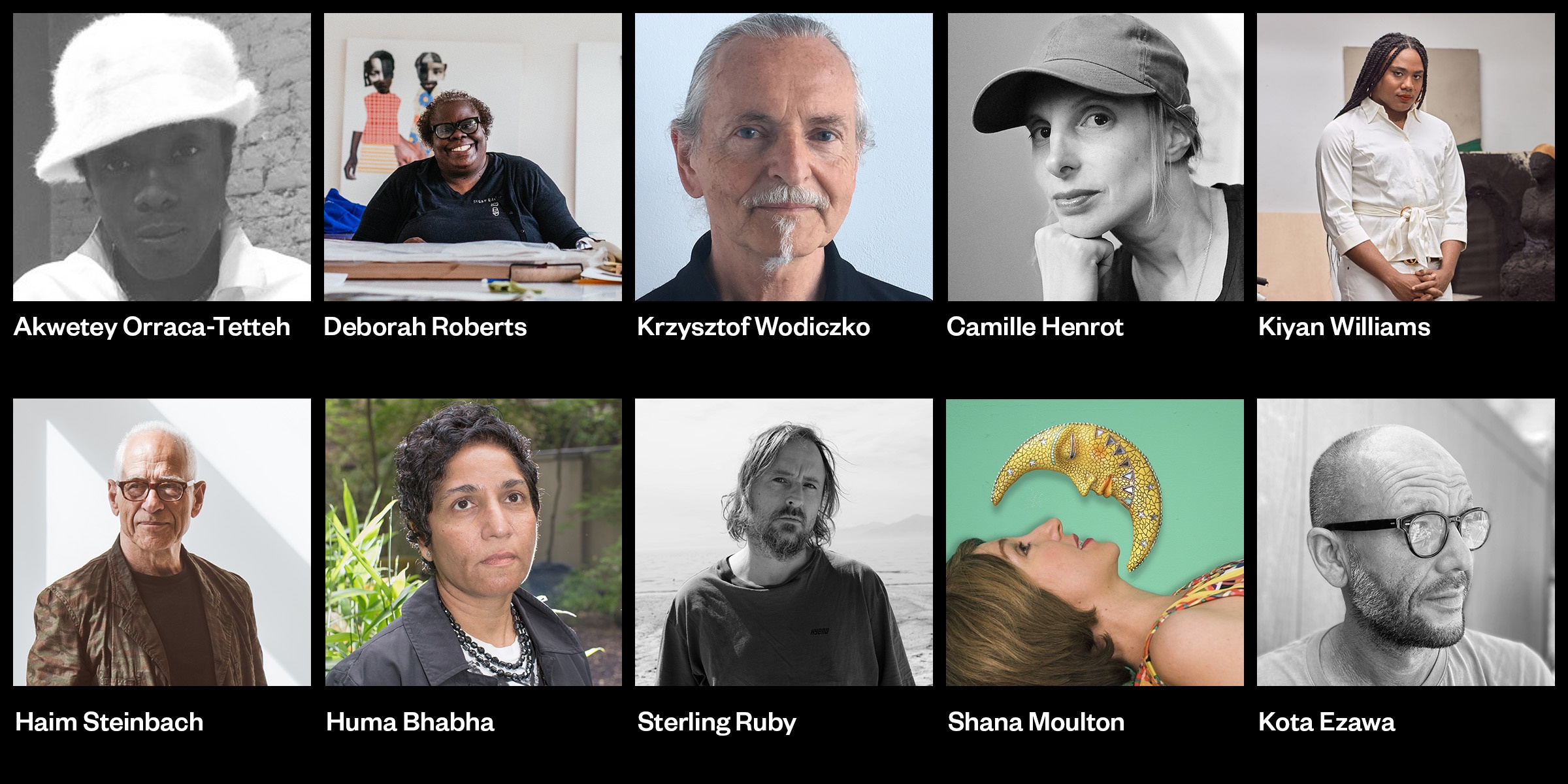 The Smithsonian's Hirshhorn Museum and Sculpture Garden will continue "Talking to Our Time," its series of free online public artist talks, through the fall, Sept. 16–Dec. 16. The extended program, which started as a summer series in July, is the first time that the museum has hosted conversations with leading global artists consecutively every week. Digital audiences from around the world are able to watch as renowned creatives, joined by Hirshhorn curators, engage in the crucial conversations that are happening on a global scale.
The forthcoming fall season of "Talking to Our Time" will stream 11 live talks and one pre-recorded talk that will be presented for the first time. The new schedule continues to feature a diverse group of artists, including Huma Bhabha, Kota Ezawa, Camille Henrot, Zoe Leonard, Shana Moulton, Akwetey Orraca-Tatteh, Deborah Roberts, Sterling Ruby, Haim Steinbach, Kiyan Williams and Krzysztof Wodiczko.
"By making the leading artists of our time accessible to audiences around the world, the museum is able, even in physical closure, to fulfill our mission," said Hirshhorn Director Melissa Chiu. "When we worked with Arthur Jafa to stream his video, 'Love is the Message, The Message is Death' for 48 hours in June, we reached viewers in 157 countries. There's a global appetite for art and we are driven to share our collection and community."
The fall "Talking to Our Time" schedule comes on the heels of an engaging summer season. A total of over 2,500 art lovers tuned in from around the world over the course of seven weeks, and nearly 18,000 viewers to date have watched the program recordings. By making artists' voices available online, the Hirshhorn aims to share the transformative power of art with larger and more varied communities, forming a network that connects artists and audiences around the world. The series is part of #HirshhornInsideOut, an ongoing effort to share the Hirshhorn's artworks, expertise and public programing at a time when the museum's campus is temporarily closed.
Each "Talking to Our Time" program will take place on Zoom and Facebook Live and will be recorded and made available soon after on the Hirshhorn's YouTube channel. Communication access real-time translation (CART) will be provided for each program. Any questions about accessibility for this series can be sent to hirshhornexperience@si.edu.
"Talking to Our Time" is derived from the Hirshhorn's commitment to serve as a national platform for contemporary artists to respond to history in real time. These events are part of the Hirshhorn's diverse range of free public programs, which invite today's leading innovators in art, design, music and technology to explore ideas that shape 21st-century culture.
(At Home) On Art and Public Space: Artist Talk With Krzysztof Wodiczko
Wednesday, Sept. 16; 7 p.m. ET (live program)
Free, registration required
Polish-born artist Wodiczko will join Hirshhorn chief curator Stéphane Aquin to discuss his decades-long practice of using art to democratize and reimagine the meaning behind public spaces and monuments. Wodiczko is celebrated for his large-scale projections that address such themes as war, conflict, surveillance, trauma and memory. By using the façades of buildings and monuments as backdrops for his work, Wodiczko interrogates the construction of collective memory and history while reconsidering the meaning of public space. In the late 1980s, Wodiczko worked with the Hirshhorn to develop a new project for its uniquely curved building. "Hirshhorn Museum, Washington, DC, 1988-2000" first debuted in October 1988 and was restaged in 2018 to coincide with the exhibition "Brand New: Art and Commodity in the 1980s." The 68-foot projection spanned the building's three-story façade and featured symbolic images that speak powerfully to sociopolitical issues of both the 1980s and the present day.
(At Home) On Art and the Alien: Artist Talk With Huma Bhabha
Wednesday, Sept. 23; 7 p.m. ET (pre-recorded program)
Free, registration required
As her towering, otherworldly sculpture "We Come in Peace" (2018) looms over the Hirshhorn's sculpture garden, Pakistani-born artist Bhabha will join Hirshhorn associate curator Anne Reeve to discuss how found materials, pop culture, sci-fi and her experiences as an immigrant have shaped the compelling figures that have come to define her practice. Bhabha's striking sculptural characters have often been referred to as post-apocalyptic and/or alien.
(At Home) Artist Talk With Zoe Leonard
Thursday, Oct. 8; 7 p.m. ET (live program)
More information coming soon.
(At Home) On Art and Peanut Butter: Artist Talk With Shana Moulton
Wednesday, Oct. 14; 7 p.m. ET (live program)
Free, registration required
California-based artist Shana Moulton will join Hirshhorn associate curator of media and performance art Marina Isgro to discuss her ongoing video and performance series "Whispering Pines" and how her work has evolved in response to the global pandemic. As part of this program, Moulton will premiere a new performance made for Zoom. Moulton's performance and video work is built around her alter ego, a fictional character named Cynthia who spends most of her time alone at home.
(At Home) On Art and Display: Curators in Conversation With Haim Steinbach
Wednesday, Oct. 21; noon ET (live program)
Free, registration required
Israeli American artist Haim Steinbach will join Hirshhorn curator-at-large Gianni Jetzer for a discussion on the intersection of art and curating, looking closely at the artist's decades-long practice of exploring values and meanings created with the display and arrangement of found objects. Since the late 1970s Steinbach's art has explored the cultural and aesthetic aspects of collecting and arranging already existing objects. An important influence in the growth of post-modern artistic dialogue, Steinbach's work has radically redefined the status of the object in art. The "Curators in Conversation" series focuses on creativity—what inspires curiosity, motivates imagination and produces meaning. Since its inception in 2014, the series has invited inspiring speakers such as Massimiliano Gioni, Lynne Cooke, Sarah Thornton, Philip Kaiser and Jim Demetrion to discuss current topics in the greater art world.
(At Home) On Art and Origin Stories: Artist Talk With Camille Henrot and Akwetey Orraca-Tetteh
Wednesday, Oc. 28; noon ET (live program)
Free, registration required
Camille Henrot's diverse practice combines film, drawing and sculpture. Taking inspiration from subjects as varied as literature, mythology, cinema, anthropology, evolutionary biology, religion and the banality of everyday life, Henrot's work acutely reconsiders the typologies of objects and established systems of knowledge. Her groundbreaking work, "Grosse Fatigue," was awarded the Silver Lion at the 55th Venice Biennale and has since been included in exhibitions globally, including in the Hirshhorn's 2017 "The Message: New Media Works." The video, which entered the Hirshhorn's collection in 2013, forms a collective "origin story for the world" by combining images and video clips that pop up in browser windows on a computer screen with a narrative soundtrack voiced by multidisciplinary artist Akwetey Orraca-Tetteh. Orraca-Tetteh, known to many as "AK," is a Ghanaian American artist currently based in Mexico City and Accra. Within an immersive practice spanning 3D engineering, painting and performance, the artist intimates the complexities of virtual life through image- and sound-based works. Henrot and Orraca-Tetteh will come together to discuss the project and more with Hirshhorn associate curator Marina Isgro.
Program to be announced.
Wednesday, Nov. 4; 7 p.m. ET
Free. Sign up for the Hirshhorn's weekly newsletter for more information.
(At Home) On Art and Soil: Artist Talk With Kiyan Williams
Wednesday, Nov. 18; 7 p.m. ET (live program)
Free, registration required
Artist Kiyan Williams will join Hirshhorn associate curator Anne Reeve to discuss their multidisciplinary practice navigating the relationship between Blackness, trans/gressive subjectivities and ecology. Williams embodies performance as a form of activism. Their early performative interventions took place on the streets of Bushwick and Harlem and used spoken word to call attention to people who have been marginalized or abandoned by society. Since then, Williams has developed an artistic practice that traverses between sculpture, performance and video, and often uses soil as a primary material.
Program be announced.
Wednesday, Nov. 25; noon ET
Free. Sign up for the Hirshhorn's weekly newsletter for more information.
(At Home) On Art and the American Psyche: Artist Talk With Sterling Ruby
Wednesday, Dec. 2; 7 p.m. ET (live program)
Free, registration required
American artist Sterling Ruby will join Hirshhorn chief curator Stéphane Aquin for a dive into his multifaceted art practice and his monumental sculpture "DOUBLE CANDLE." Ruby is recognized as one of today's most prolific and inventive artists. He works across a range of media including textiles, painting, drawing, collage, photography, video, ceramics and sculpture.
(At Home) On Art and Identity: Artist Talk With Deborah Roberts
Wednesday, Dec. 9; 7 p.m. ET (live program)
Free, registration required
Artist Deborah Roberts will join Hirshhorn senior curator Evelyn Hankins for a discussion on power, identity and challenging cultural myths and stereotypes. From her earliest encounters with "mythical, heroic, beautiful and powerful" figures represented in paintings by Italian Renaissance artists and photographs in mass media, Roberts recognized that these images did not reflect her experience.
(At Home) On Art and Animation: Artist Talk With Kota Ezawa
Wednesday, Dec. 16; 7 p.m. ET (live program)
Free, registration required
German Japanese American artist Kota Ezawa looks to the news, popular culture, art history and cinema to source material for his work, which explores how recording technologies mediate people's understanding of current events and images. Ezawa has received critical acclaim for his videos, lightboxes and works on paper that distill found imagery into his characteristic pared-down style. Ezawa will join Hirshhorn associate curator Marina Isgro to discuss his process of translating iconic media moments into opportunities for reconsideration and reflection.
About the Hirshhorn 
The Hirshhorn Museum and Sculpture Garden is the national museum of modern and contemporary art and a leading voice for 21st-century art and culture. Part of the Smithsonian, the Hirshhorn is located prominently on the National Mall in Washington, D.C. Its holdings encompass one of the most important collections of postwar American and European art in the world. The Hirshhorn presents diverse exhibitions and offers an array of public programs on the art of our time—free to all. The Hirshhorn Museum's outdoor sculpture garden is open daily 10 a.m.–4:30 p.m.; its plaza will open Sept. 18. The museum building is currently closed due to COVID-19. For more information, visit hirshhorn.si.edu. Follow the museum on Facebook, Instagram, Twitter and YouTube.
# # #
SI-270-2020