Evening Concerts at the 2023 Smithsonian Folklife Festival
June 23, 2023
News Release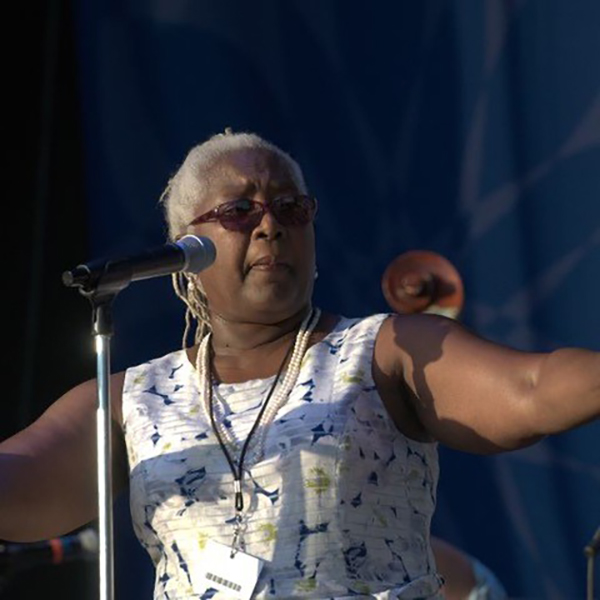 The Smithsonian Folklife Festival, held on the National Mall June 29 to July 4 and July 6 to 9, will feature a series of evening concerts. Evenings concerts begin at 6 p.m., unless otherwise noted. Admission to the festival—and the concerts—is free and open to the public. The festival is presented in collaboration with the National Park Service. Concession stands, offering food and drinks inspired by the Ozarks and the country's diverse spiritual traditions, will be open during the concerts.
Several of the evening concerts, as well as select daytime programming, will be livestreamed on YouTube and the festival website. American Sign Language interpretation and live, real-time captioning will be provided for all evening concerts, for both in-person and virtual audiences.
Thursday, June 29
"An Evening with Ozarks Women"—The opening night of the 2023 Smithsonian Folklife Festival salutes the women at the helm of the Ozarks' eminent musical traditions. Melissa Carper blends the county and bluegrass of her home in Arkansas with soul and jazz influences. Marideth Sisco of Missouri, Cindy Woolf from Missouri and Pam Setser of Arkansas kick off the concert.
Friday, June 30
"Come Let Us Sing: Gospel Music Legacies"—Celebrating the spirit of gospel, this concert opens with Fran "Lady Strings" Grace on the steel guitar. Next, Kingdom Fellowship AME Church highlight the roots of contemporary gospel with a set of traditional African American hymns. NEA National Heritage Fellows the Legendary Ingramettes will close the evening. Between sets, a short documentary film on Shelley Ensor, gospel singer, teacher and Maryland Heritage Award winner, will make its big-screen premiere. The film is produced by the Maryland State Arts Council with Wide Angle Youth Media, an arts education nonprofit in Baltimore.
Saturday, July 1
"NextGen Ozarks Showcase"—The five-piece bluegrass band Sylamore Special from Mountain View, Arkansas, returns to the National Mall, after playing a preview concert at the 2022 Folklife Festival, along with Grace Stormont, fellow 2022 Arkansas Country Music Award-winner singer and instrumentalist. Also featured are singer-songwriter Pura Coco with DJ Raquel and Marshallese vocal band MARK Harmony. Oklahoma-bred songwriter and guitarist Kalyn Fay accompanied by Matt Magerkurth round out the showcase. The concert will be followed by a Community Square Dance.
Sunday, July 2
"Singing Together: Riyaaz Qawwali and the Jones Family Singers," 5:30 p.m.—The Jones Family Singers share the stage with celebrated ensemble Riyaaz Qawwali for a cross-cultural encounter. Qawwali comes from the Sufi Muslim worship practice of South Asia, a living tradition stretching back hundreds of years. Gospel music is rooted in American Christian churches and revivals with the profound influence of African American performance styles. Both are forms of devotional music whose passionate performances are marked by sparkling energy and spiritual uplift.
Tuesday, July 4
"An Evening with the Ozark Mountain Daredevils"—The Springfield, Missouri-based band has been honing its country rock sound for over 50 years. "I continue to be amazed at all the places in my life that music has taken me," said John Dillon, a founding member of the band. "I'm even more amazed by the number of new experiences that have come our way in just the past two years. Now, on July 4, we are playing on the Mall at our nation's capital for the Smithsonian. It is such an honor. What a truly magical trip this has been."
Thursday, July 6
"Ozarks Opry"—This concert features an eclectic mix of Ozarks singers, musicians, dancers and even a comedian. Terry Wayne Sanders, aka Homer Lee: Branson's Favorite Comedian, opens the showcase. Performances include old-time music by David Scrivner, Nathan McAlister and David Cavins; high-energy bluegrass by Sylamore Special; and gospel music by The Williams Family of Missouri. Finally, another Missouri Ozarks family band, Big Smith, blends bluegrass, gospel, rock'n'roll and acoustic country sounds.
"Folkways at 75," 8:30 p.m.—Two artists uniting the traditional and the futuristic come together on one bill to celebrate 75 years of Folkways Records. Jake Blount and No-No Boy are two of Smithsonian Folkways' rising stars, representing the next generation of songwriters and tradition bearers. Between performers will be a screening of the short film "Early Abstractions" by Harry Smith, the polymath and compiler of the "Anthology of American Folk Music."
Friday, July 7
"Memorias de agua: An Evening of Film, Dance, and Music"—Festival goers can hear sounds of Puerto Rico and Cuba, New York, Los Angeles and Oakland during this salute to the enduring African legacy in music and dance from the Caribbean. The evening opens with "Daughter of the Sea," a short film by Alexis Garcia about a return home and a spiritual awakening in Puerto Rico. After the film, Afro-Puerto Rican ensemble Bomba Yemayá and Afro-Cuban singer Bobí Céspedes and her band perform.
Saturday, July 8
"Ozarks × Folkways"—Arkansas folk band Sad Daddy starts off the night, blending jazz, soul and country music in heartfelt tunes. The Creek Rocks, a husband-and-wife duo from Missouri, and the Po' Ramblin' Boys will also perform. Po' Ramblin' Boys, who released an album by Smithsonian Folkways last year, is redefining bluegrass today. The concert will be followed by a Community Square Dance.
Sunday, July 9
"Blues and Roots: Celebrating the Musicians of Playing for the Man at the Door," 5 p.m.—Dom Flemons, Phil Wiggins and Hubby Jenkins, and Yasmin Williams come together to celebrate the music and musicians featured on Playing for the Man at the Door: Field Recordings from the Collection of Mack McCormick 1958–1972, the upcoming box set from Smithsonian Folkways in collaboration with the National Museum of American History.
###
SI-208-2023