Egyptian Mummies on View in New Smithsonian Exhibition
March 30, 2011
News Release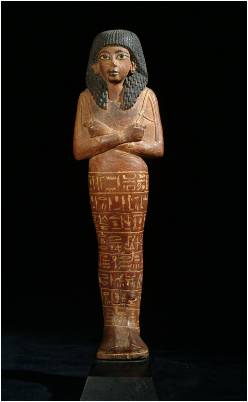 The Smithsonian's National Museum of Natural History will open "Eternal Life in Ancient Egypt" April 5, an examination of ancient Egyptian burial practices that will include mummies from Smithsonian collections. The exhibition will give visitors a view into how religion and belief systems have helped people navigate everyday life both in ancient and modern-day Egypt. The three cases are a preview of a larger exhibition that will open this fall and spotlight Smithsonian science, showing how museum experts have gleaned important insights into the ancient world. Additional cases will be unveiled this fall showcasing more Egyptian human and animal mummies, some never before exhibited.
The April 5 exhibits, "In the Mummy's Tomb," "Making a Mummy" and "What's in a Face," focus on Egyptian burial rites. Visitors will explore Egyptian cosmology and learn about burial rituals through recreations of tombs, a step-by-step tutorial on the mummification process and a display of six mummy masks that will bring them face-to-face with the once-living people who now lie beneath linen wrappings.
"This exhibition will feature mummies and other spectacular objects from our collections on display for the first time," says Melinda Zeder, curator of Old World Archaeology in the Department of Anthropology. "We invite visitors to find out more about Egyptian tombs, mythology, mummies and the window they give us into ancient Egyptian life and preparations for eternity."
Coming This Fall
On Nov. 17, the museum will debut its largest exhibition of ancient Egyptian mummies and artifacts to date with more mummies on display than ever before, some of which have never before been seen by the public. The exhibition will focus on Smithsonian science and what museum experts have learned about burial practices, health, disease and demographics from studying mummies. This will give a better understanding of Egyptian beliefs about the afterlife and provide special insights into the lives of the individuals buried in wooden coffins like the ones that will be on view.
An in-depth analysis of the link between animal mummification and Egyptian belief systems can be explored by examining high-resolution X-rays and CT scans of bull, cat, ibis, hawk, crocodile and baboon mummies. Other displays show how insects became an important part of preparing for the afterlife and include a richly decorated inner coffin of a woman named Tentkhonsu, who was a member of a group of noble women known as a "musical harem of the god." Visitors can delve into the ways Egyptians tried to ensure their eternal life and care for their deceased family members and learn about two of the most prominent gods, Osiris and Re, who helped the dead achieve eternal life and kept the natural order of the world of the living.
High-resolution images of objects that will be on view during this summer's sneak preview are available for download from the Smithsonian's press room website: http://www.newsdesk.si.edu. For more information about the exhibition, visit http://www.mnh.si.edu/exhibits/eternal-life.
The Smithsonian's National Museum of Natural History, located at 10th Street and Constitution Avenue N.W. in Washington, D.C., welcomes more than 6 million visitors annually. The museum is open daily from 10 a.m. to 5:30 p.m.
Admission is free. More information about the museum is available at www.mnh.si.edu or by calling (202) 633-1000, TTY (202) 357-1729.
# # #
SI-144-2011