"Dinosaurs Alive 3D" Roars onto the IMAX Screen at Smithsonian Theaters May 22
May 18, 2015
News Release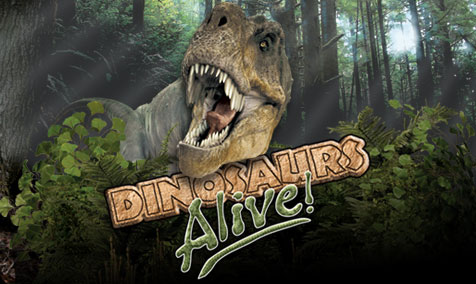 Dinosaurs Alive 3D opens in the Samuel C. Johnson IMAX Theater at the Smithsonian's National Museum of Natural History May 22. Dinosaurs Alive is an adventure of science and discovery that will enthrall audiences with its unique look at the entire age of dinosaurs. Narrated by Michael Douglas, the film features animation and a live-action story that follows renowned paleontologists as they uncover new fossils—including the discovery of what may be the oldest dinosaur found in North America.
Dinosaurs Alive brings dinosaurs, their behaviors and their ancient environments to life on screen as never before seen—juxtaposing stunningly realistic and scientifically accurate computer generated imagery with intriguing 1920s documentary footage, dramatic new scenes of real fossils and current dinosaur-hunting expeditions. Using state-of-the-art techniques, the filmmakers have created an array of life-like creatures based on the latest fossil evidence so that audiences can experience these creatures on the giant screen.
More fossils than ever are being found today. While there have been historic discoveries during the past century, and much more is known about these amazing creatures than ever before, the scientific quest to find and understand dinosaurs and the world they inhabited is ongoing. Dinosaurs Alive estimates that less than 2 percent of all the dinosaur species that once lived have been discovered. For young paleontologists, the adventure is just beginning, and this new film will spark imaginings of what mysteries still lie buried.
Dinosaurs Alive is a production of David Clark Inc., Giant Screen Films, the Maryland Science Center and Stardust Blue, in association with the American Museum of Natural History. The film is written and directed by two veteran filmmakers, Academy Award-nominated Bayley Silleck and Emmy Award-winning David Clark, with cinematography by Bill Reeve. Dinosaur animation was created by Digital Artists Montreal Network, whose artists have previously created dinosaurs for Discovery Channel specials about dinosaurs. Major funding was provided by the National Science Foundation with additional support from the Museum Film Network and the 3D Film Interest Group. The film is distributed by Giant Screen Films of Evanston, Ill.
Tickets for Dinosaurs Alive 3D are available at the Samuel C. Johnson Theater box office or online at www.si.edu/imax. Groups of 10 or more may reserve tickets now for any date during the film's expected run by calling 866-868-7774 or visiting www.si.edu/groupsales. The Johnson IMAX Theater is located on the main floor of the National Museum of Natural History  building on the National Mall in Washington, D.C., which is located at 10th Street and Constitution Avenue N.W.
# # #
SI-243-2015