Cooper-Hewitt to Host Seventh Annual National Design Week Oct. 13–21
September 25, 2012
News Release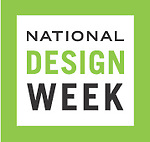 The Smithsonian's Cooper-Hewitt, National Design Museum will host its seventh annual National Design Week from Oct. 13 through Oct. 21. The museum will offer a series of public programs and a range of online resources for students, teachers, design professionals and the general public to celebrate the important role that design plays in all aspects of daily life. All Cooper-Hewitt programs are free with advance registration at www.cooperhewitt.org/ndw.
Cooper-Hewitt has also launched a new interactive National Design Week online resource, www.ndw.lanyrd.com, that promotes design events hosted by organizations and institutions across the country. This year's events span the nation, with design events in Portland, Ore., Denver, and Santa Fe, N.M., as well as New York.
The National Design Week site, hosted on the Lanyrd platform, allows users to find events hosted in their local area, and provides geo-location for mobile search on the go. Lanyrd.com is a social events directory that works like a wiki, leveraging the community it serves by encouraging users to enter event details and edit data. Lanyrd is closely integrated with Twitter and also recommends events that Twitter contacts are attending or speaking at. Participants can share their experiences by using the hashtag #ndw2012.
National Design Week is held in conjunction with Cooper-Hewitt's most visible public education program, the National Design Awards. Now in their second decade, the awards recognize the best in American design across a range of disciplines. The award recipients will be honored at a gala dinner Oct. 17 in New York.
Cooper-Hewitt public programs include:
Target Design Kids: Kid Made Modern with Todd Oldham; Saturday, Oct. 13,10–11:30 a.m., 12–1:30 p.m., 2–3:30 p.m., 4–5:30 p.m.
Cooper-Hewitt Design Center (111 Central Park North, New York)
Kids ages 5 to 12 are invited to create modern design pieces from everyday and recycled materials with Todd Oldham and crew. Free.
Drop-in on Design: Family Programs; Monday, Oct. 15–Friday, Oct. 19, 4–6 p.m.
Cooper-Hewitt Design Center (111 Central Park North, New York)
"Drop-in on Design" allows families to explore design through fun hands-on activities led by our Design Educators. Free.
NYC Teen Design Fair; Monday, Oct. 15, 3:30–6 p.m.
The Altman Building (135 West 18th Street, New York)
New York City high school students are invited to learn about careers in design. A keynote address will be delivered by Tim Gunn, chief creative officer at Liz Claiborne Inc. and co-host of Lifetime's Project Runway. The Teen Design Fair brings leading designers working in the fields of fashion, industrial, multimedia, graphic design and architecture, to meet one-on-one with students. Design colleges from around the country will also be on hand to provide admissions and scholarship information. Free.
National Design Awards Winners' Panel; Monday, Oct. 15, 7–8:30 p.m.
The Altman Building (135 West 18th Street, New York)
National Design Award winners participate in a panel discussion about the state of contemporary design in America. Moderated by Richard Saul Wurman, Lifetime Achievement winner. Free. This program will be webcast live at www.cooperhewitt.org.
Target Design Kids: Design Tales; Tuesday, Oct. 16, and Thursday, Oct. 18, 10-11 a.m.
Cooper-Hewitt Design Center (111 Central Park North, New York)
Preschoolers ages 2 to 5 and their caregivers are invited to participate in interactive reading sessions that focus on design-based books. Free.
Andrew Revkin: #Knowosphere; Thursday, Oct. 18, 7-8:30 p.m.
Cooper-Hewitt Design Center (111 Central Park North, New York)
Andrew Revkin, professor, author and creator of the New York Times Dot Earth blog on climate change and sustainable living, explores contemporary trends in collaborative communication and design and how they can be used to shape a sustainable human journey. Free.
Target Design Kids: Family Programs; Saturday, Oct. 20, 11-12:30 p.m. and 1:30-3 p.m.
Cooper-Hewitt Design Center (111 Central Park North, New York)
Target Design Kids introduces basic design concepts to children ages 5 and older through a series of different hands-on workshops. Free.
Educator Resource Center (www.educatorresourcecenter.org)
The online Educator Resource Center  features design-focused lesson plans and discussion boards for K-12 educators interested in incorporating design in their classrooms. The site now includes more than 400 lesson plans aligned to national and state standards for all grade levels and helps teachers of all subjects, including mathematics, science, language arts and history, as well as art, learn ways to promote innovation, critical thinking, visual literacy and problem solving across the curriculum.
The 2012 National Design Awards recipients are:
Lifetime Achievement: Richard Saul Wurman

Design Mind: Janine Benyus

Design Patron: Red Burns

Corporate and Institutional Achievement: Design that Matters

Architecture Design: Mack Scogin Merrill Elam Architects

Communication Design: Rebeca Méndez

Fashion Design: Thom Browne

Interaction Design: Evan Roth

Interior Design: Clive Wilkinson Architects

Landscape Architecture: Stoss Landscape Urbanism

Product Design: Scott Wilson
National Design Week is made possible in part by the generous sponsorship of Target. National Design Award Trophies are created by The Corning Museum of Glass. nationaldesignawards.org is powered by Behance. 
Media sponsorship is provided by Fast Company.  
Transportation is provided by Nissan.
National Design Awards Winners' Panel is sponsored by Coalesse.
National Design Awards and National Design Week professional supporters include AIGA | the professional association for design, American Institute of Architects New York Chapter, American Society of Interior Designers, American Society of Landscape Architects, Industrial Designers Society of America and Interaction Design Association.
About Cooper-Hewitt, National Design Museum, Smithsonian Institution
Founded in 1897, Cooper-Hewitt is the only museum in the nation devoted exclusively to historic and contemporary design. The museum presents compelling perspectives on the impact of design on daily life through active educational programs, exhibitions and publications.                                 
Cooper-Hewitt's main facility, housed in the Carnegie Mansion, is undergoing renovation as part of a $64 million capital campaign that includes enlarged and enhanced facilities for exhibitions, collections display, education programming and the National Design Library, and an increased endowment. During the renovation, Cooper-Hewitt's usual schedule of exhibitions, education programs and events will be staged at various off-site locations.
# # #
SI-399-2012