Celebrate Women's History Month at the Smithsonian
February 28, 2019
News Release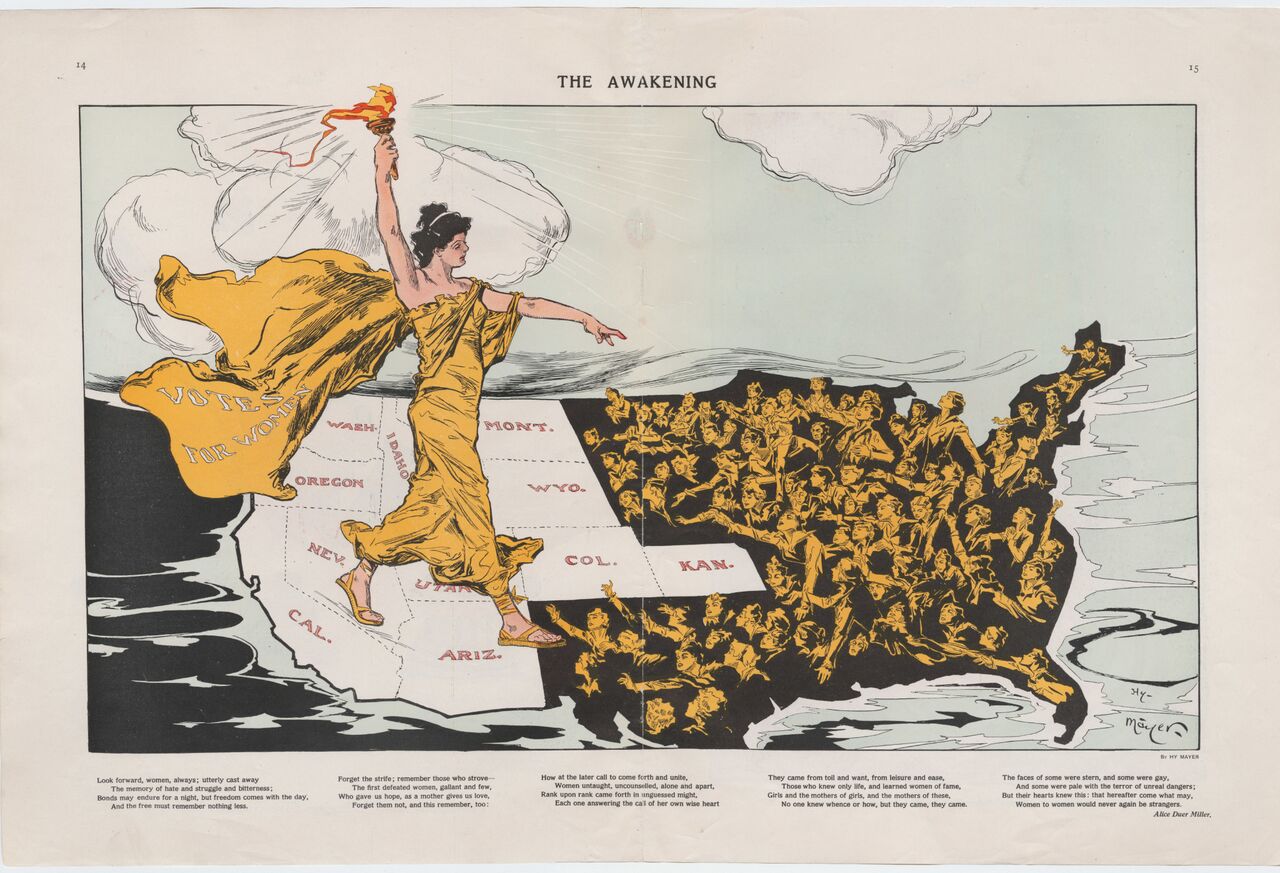 The Smithsonian invites the public to celebrate Women's History Month in March through a series of vibrant performances, talks, family activities and exhibitions at its various museums. All programs are free unless otherwise indicated.
Workshops
Wikipedia Edit-a-thon: Feminism and the Arts
Sunday, March 10; 10:30 a.m.­–3 p.m.
Smithsonian American Art Museum, enter at Eighth and G streets N.W.
Visitors can join the Smithsonian American Art Museum and Art+Feminism for a Wikipedia edit-a-thon, where participants will learn how to edit and create new articles about women artists. The program will begin with a special tour of remarkable women in the museum's collection. All levels of technological savvy are welcome. Registration is required at saamprgrogams@si.edu.
Bring the Kids
On Saturdays and Sundays, at 1 p.m., the National Portrait Gallery hosts Portrait Story Days. Visitors will hear stories and create art inspired by women throughout history. Featured figures in March include Elizabeth Cady Stanton, Belva Lockwood, Sonia Sotomayor and Alice Paul.
On Saturday, March 9, the National Air and Space Museum's Udvar-Hazy Center will host "We Can Do It! Women in Aviation and Space" Family Day. From 10 a.m. to 3 p.m., visitors of all ages can enjoy activities inspired by stories of the women in air and space.
Mondays, March 11 and 25, the National Portrait Gallery's Young Portrait Explorer program will focus on Elizabeth Cady Stanton. Toddlers up to age 5 and their adult companions will learn about the suffrage leader in a program that teaches art and history through storytelling. The event is free, but registration is required at npg.eventbrite.com.
The Sackler Gallery of Art will celebrate the opening of "Empresses of China's Forbidden City, 1644–1912" with a day of activities Saturday, March 30. From noon to 5 p.m., visitors can enjoy curator talks, performances, food and art activities for all ages.
Performances and Films
Honoring Queen Liliʻuokalani
Saturday and Sunday, March 9–10; 11:30 a.m. and 1, 2:30 and 4 p.m.
National Museum of the American Indian
The music and poetry of Queen Liliʻuokalani is honored as part of Women's History Month and the Smithsonian Year of Music. Amy Stillman (Native Hawaiian), professor of ethnomusicology at the University of Michigan, will perform the queen's songs and discuss their impact during a period of political and cultural instability in Hawaiʻi. Kumu Hula Manu Ikaika (Native Hawaiian) and Halau Hoʻomau I Ka Wai Ola O Hawaiʻi will join Dr. Stillman in the program.
Warrior Women screening
Friday, March 22; 7 p.m.
The National Museum of the American Indian
In the 1970s, organizers of the American Indian Movement fought for Native liberation as a community of extended families. Warrior Women explores what it means to balance a movement with motherhood and how activist legacies are passed down from generation to generation in the face of a government that has continually met Native resistance with mass violence. (USA, 2018, 64 min.)
Women Directors Film Festival: Visionaries, Then and Now
Saturday, March 30; noon–8 p.m.
Smithsonian American Art Museum
A film festival highlighting the visionary work of women film directors opens with early cinematic trailblazers including Alice Guy Blaché, Lois Weber and more. Then, Trinh T. Minh-ha's documentary "Surname Viet Given Name Nam" (1989) is paired with artist Tiffany Chung's recent video work. The festival finishes with Julie Dash's beautifully remastered, award-winning feature Daughters of the Dust (1991), with a post-film discussion by author and cultural critic Christina Sharpe.
Talks
The Women Who Animated the Movies: Uncovering a Colorful History
Thursday, March 7; 6:45 p.m.
S. Dillon Ripley Center
Their names are not as familiar as those of Minnie Mouse or Betty Boop, but female animators have made significant contributions to the form since the its earliest days. Mindy Johnson, a leading expert on women in film history, tells their (mostly) little-known stories in this Smithsonian Associates event. Tickets are $20 for members, $30 for nonmembers, and can be purchased here or by calling (202) 633-3030.
Art AfterWords: A Book Discussion
Tuesday, March 19; 5:30–7 p.m.
National Portrait Gallery
Visitors can join a discussion of The Scarlet Sisters: Sex, Suffrage, and Scandal in the Gilded Age by Myra MacPherson The event is free, but registration is required at npg.eventbrite.com. The group will meet in the G Street Lobby.
Safety for Our Sisters: Ending Violence Against Native Women
Thursday, March 21; 2–5:30 p.m.
National Museum of the American Indian, Washington, D.C., Rasmuson Theater
This symposium explores the causes and consequences of disproportionately high levels of sexual abuse and domestic violence in Native communities. It is moderated by Sari Horwitz, three-time Pulitzer Prize-winning reporter for the Washington Post.
Exhibitions
The REDress Project
On display March 1–31 at the National Museum of the American Indian
To commemorate Women's History Month, the National Museum of the American Indian presents The REDress Project, an outdoor art installation by artist Jaime Black (Métis), which "positions the Indigenous female body as a target of colonial violence." Black's purpose is to draw attention to the gendered and racialized nature of violent crimes against Native women and to evoke a presence though the marking of absence.
"All Work, No Pay"
Opens March 4 at the National Museum of American History
Break rooms across America have signs imploring staff to clean up after themselves. Some read: "Your mother doesn't work here." This new case display shows that despite advances in the paid labor force, women continue to be responsible for most of the unpaid work at home. It includes aprons, housedresses and a variety of other wear for domestic work from colonial times to the 1990s. Many items are on view for the first time.
"Tiffany Chung: Vietnam, Past Is Prologue"
March 15–Sept. 2; Smithsonian American Art Museum
Internationally acclaimed artist Tiffany Chung (b. 1969, Đà Nẵng, Viet Nam) probes the legacies of the Vietnam War and its aftermath through maps, videos and paintings that highlight the voices and stories of former Vietnamese refugees. Through this work, Chung documents accounts that have largely been left out of official histories of the period and begins to tell an alternative story of the war's ideology and effects.
"Votes for Women: A Portrait of Persistance"
Opens March 29 at the National Portrait Gallery
This major exhibition reveals the women and organizations that are often overlooked in the complex narrative of women's suffrage in the United States. Through portraiture, biography and material culture, the exhibition examines the contributions of the radical women in antislavery societies, women activists of the late 19th century, the "New Woman" of the turn of the century and the militant suffragists of the 1910s. This presentation also highlights the struggles that minority women endured long after the passage of the 19th Amendment.
"Empresses of China's Forbidden City, 1644–1912"
Opens March 30, at the Arthur M. Sackler Gallery of Art
The lives of the Qing empresses offer a compelling tale of opulence and influence as told in this first-ever, in-depth exhibition of the subject. Organized by the Peabody Essex Museum, the Freer│Sackler and the Palace Museum in Beijing.
The Smithsonian American Women's History Initiative
The Smithsonian American Women's History Initiative, "Because of Her Story," strives to be the nation's most comprehensive undertaking to document, research, collect, display and share the compelling story of women in America. Launched in 2018, the initiative will greatly increase the Smithsonian's research and programming related to women in the U.S., past and present. With a digital-first mission and focus, the initiative uses technology to amplify a diversity of women's voices—not in one gallery or museum, but throughout the Smithsonian's many museums, research centers, cultural heritage affiliates and wherever people are online—reaching millions of people in Washington, D.C., across the nation and around the world. More information about the initiative is available at womenshistory.si.edu. The public can join the conversation on social media at #BecauseOfHerStory.
# # #