Azerbaijani and Pueblo Indian Communities Unite to Study Ancient Petroglyphs
"Written in Rock" Project Tackles Cultural Heritage Protection
October 18, 2012
News Release
Addthis Share Tools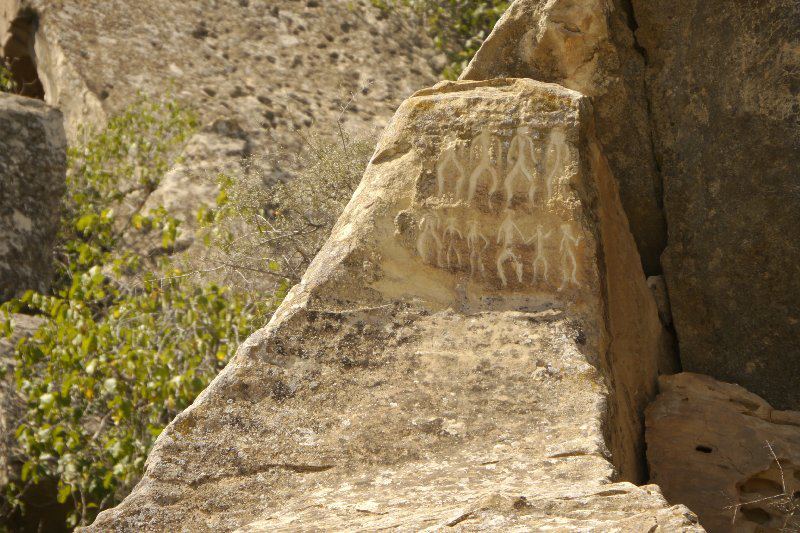 The Smithsonian's Office of Policy and Analysis and the Smithsonian's National Museum of the American Indian announce "Written in Rock," a public engagement project that generates collaboration among Azerbaijani and Pueblo Indian communities on the topic of cultural heritage protection.
Around the world, people study and revere petroglyphs for their social, spiritual and scientific value. In the United States and Azerbaijan, ancient rock carvings remain significant and sacred to the descendants of their original creators, yet rock carvings are increasingly threatened by environmental change and human activity.
From Oct. 21 to Oct. 27, six members of the Pueblo Indian communities in New Mexico and six university students from Azerbaijan will study these powerful, yet fragile, monuments at the Gobustan National Historical Artistic Preserve in Azerbaijan. They will work closely with archeologists and conservationists specializing in the study of petroglyphs to tackle preservation challenges, share cultural perspectives and generate techniques for community outreach to enhance the understanding and appreciation of the petroglyphs and one another's culture. In March 2013, the Azerbaijani participants will travel to New Mexico where they will work with their Pueblo partners to explore the petroglyphs at the Petroglyph National Monument and the culture of the region.
"Written in Rock" is a Museums Connect project that is funded in part by a grant from the U.S. Department of State's Bureau of Educational and Cultural Affairs and is administered by the American Alliance of Museums. The project's partners include the Gobustan National Historical Artistic Preserve in Baku, Azerbaijan; the Indian Pueblo Cultural Center in Albuquerque, N.M.; the Petroglyph National Monument in Albuquerque; and Sacred Sites Research in Albuquerque.
# # #
SI-460-2012