"To the Arctic 3D" Opens at the National Museum of Natural History April 20
April 16, 2012
News Release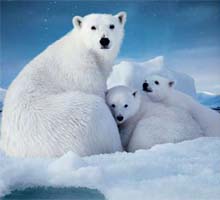 Smithsonian Theaters presents its newest giant-screen film, To the Arctic 3D, opening at the National Museum of Natural History's Johnson IMAX Theater April 20. The 40-minute documentary adventure tells the ultimate tale of survival, taking audiences on a journey into the lives of a mother polar bear and her 7-month-old cubs as they navigate the changing Arctic wilderness they call home. The intimate footage brings moviegoers up close and personal with this family's struggle to survive in a frigid environment of melting ice, immense glaciers, spectacular waterfalls and majestic snow-bound peaks.
To the Arctic 3D was filmed as the first film presentation of the One World One Ocean campaign, a multiplatform media initiative from MacGillivray Freeman Films aimed at building awareness of the issues that affect the world's oceans. The for-purpose campaign seeks to change how people see and value the ocean and galvanize a new movement to restore it.
Narrated by Oscar winner Meryl Streep, To the Arctic 3D is a co-production from Warner Brothers, MacGillivray Freeman Films and IMAX Corp. The film was directed by two-time Academy Award-nominated filmmaker Greg MacGillivray and features music by Steve Wood, with songs by Paul McCartney.
Individual tickets for all regularly scheduled public screenings of To the Arctic 3D are on sale and may be purchased up to two weeks in advance. Groups of 10 or more may reserve tickets for any date during the film's expected run. The public may visit any Smithsonian Theaters box office, call toll-free (866) 868-7774 or visit www.si.edu/IMAX for information or to purchase tickets.
The Johnson IMAX Theater is located on the first floor of the National Museum of Natural History at 10th Street and Constitution Avenue N.W. The theater's 90-by-60-foot screen is the largest in Washington, D.C.
# # #
SI-167-2012