Archives of American Art Presents an Evening of Spoken Word with Patti Smith
March 31, 2011
News Release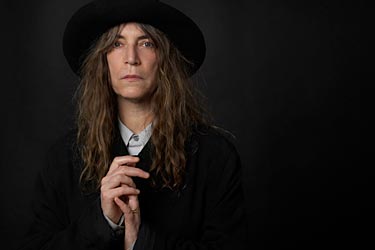 Artist, poet and musician Patti Smith will give a performance to benefit the Archives of American Art featuring artists' love letters from the Archives' collections. The event will be held May 17 at 6:30 p.m. at Sotheby's, 1334 York Avenue in New York City. Tickets are $100 for general admission. For tickets and information, the public may contact the Archives at (202) 633-8768 or www.aaa.si.edu/support/patti-smith.
An innovative and electric performer, Smith is widely known for her early influence in the punk movement. Her artwork was first exhibited at Gotham Book Mart in 1973, and she has been associated with the Robert Miller Gallery since 1978. "Strange Messenger," a retrospective of 300 works, made its debut at the Andy Warhol Museum in Pittsburgh in 2002 and was exhibited worldwide, most notably at the Institute of Contemporary Art in Philadelphia, the Haus der Kunst in Munich and the Museum Boijmans Van Beuningen in Rotterdam, Netherlands. Her books include Just Kids, Witt, Babel, Woolgathering, The Coral Sea and Auguries of Innocence.
In 2010, Just Kids, her best-selling memoir about her relationship with artist Robert Mapplethorpe and life in New York City, won the National Book Award for nonfiction. In March 2007, Smith was inducted to the Rock and Roll Hall of Fame. In 2005, she received the Commandeur de l'Ordre des Arts et des Lettres, the highest grade awarded by France to eminent artists and writers who have contributed significantly to furthering the arts throughout the world. 
The event is sponsored by the Maurice English Poetry Award through Helen W. Drutt English.
The Smithsonian's Archives of American Art is the world's pre-eminent resource dedicated to collecting and preserving the papers and primary records of the visual arts in America. For more information, visit the Archives website at www.aaa.si.edu.
# # #
SI-147-2011