Archives of American Art Launches New Website about the 1913 Armory Show
Tells the Story of First Major International Exhibition of Modern Art
February 15, 2013
News Release
Addthis Share Tools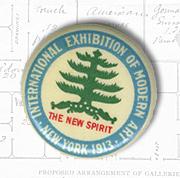 The Smithsonian's Archives of American Art has launched 1913 Armory Show: The Story in Primary Sources at armoryshow.si.edu, a website celebrating the centennial of the International Exhibition of Modern Art. Popularly known as the Armory Show, it was first major exhibition of European modern art in the United States, opening in New York Feb. 17, 1913, then travelling to Chicago and Boston. The complete story of the 1913 Armory Show cannot be told without the Archives of American Art; the Archives holds the largest accumulation of primary sources, ranging from the official records of the Association of American Painters and Sculptors, the group that organized the show, to the personal papers of artists who participated in the exhibition.
The new website features an interactive timeline of more than 150 letters, postcards, photographs and rare printed materials dating from December 1911 to May 1914 that tell the inside story of this landmark exhibition from the personal perspective of the key organizers, and it provides the firsthand—and often irreverent—accounts of visitors to the show.
Letters from the key organizers Arthur B. Davies, Walt Kuhn and Walter Pach describing how they scrambled to borrow roughly 1,250 works of art are presented along with postcards from celebrity artists seeking payment and notes from everyday people looking for lost umbrellas. There are also rare publications, photographs and a sampling of the press coverage by critics and others trying to come to grips with the new, "foreign" art. The website paints a picture of the Armory Show that is as dynamic as the stunning diversity of works on display in 1913. This presentation of primary sources will benefit scholars, students, curators, archivists and enthusiasts of modern art, U.S. history and culture, and the digital humanities.
The story is far from over: New archival discoveries, such as a recent addition to Pach's personal papers, continue to propel contemporary inquiry into the circumstances of the Armory Show and its legacy. Just as the organizers anticipated, the Armory Show will likely sustain people's curiosity for the next 100 years.
Related Events
The Archives of American Art Journal will publish a special "Armory at 100"issue devoted to the 1913 Armory Show, including several important new finds by scholar Laurette E. McCarthy. 
A major exhibition of Armory Show documents from the Archives of American Art, "The Story of the Armory Show: Some Notes as to Why and How It Happened, from the Archives of American Art," curated by the Archives' Mary Savig, will be on view at the Montclair Art Museum in Montclair, N.J., from Feb. 17 through June 16, in conjunction with the museum's "The New Spirit: American Art in the Armory Show."
The Archives of American Art is the world's pre-eminent resource dedicated to collecting and preserving the papers and primary records of the visual arts in America. For more information, visit the Archives website at www.aaa.si.edu.
# # #
SI-53-2013