Actress Kathleen Turner Discusses Her Career and Passions at Smithsonian Associates Event
August 28, 2012
News Release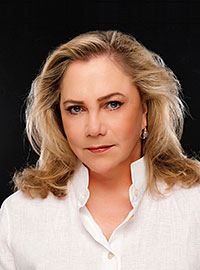 The Smithsonian Associates presents an evening with Academy Award and Tony Award nominee Kathleen Turner, Monday, Oct. 15, at 7 p.m. at the Smithsonian's National Museum of the American Indian's Rasmuson Theater. Turner will discuss her career and passions.
Turner is currently in Red Hot Patriot at Arena Stage (through Oct. 28). The star of such hit films as Body Heat, Jewel of the Nile, Prizzi's Honor, War of the Roses—and the voice of cartoon siren Jessica Rabbit in Who Framed Roger Rabbit?—has returned to the stage in the Broadway productions of Cat on a Hot Tin Roof, Who's Afraid of Virginia Woolf? and now at Arena Stage in the role of political journalist Molly Ivins.
Ticket prices for the Smithsonian presentation are $30 for general admission and $20 for Associate members. For tickets and information, the public may call (202) 633-3030 or visit www.smithsonianassociates.org. The Smithsonian Associates offers life-enriching, educational and cultural experiences inspired by the Smithsonian's exhibitions, collections and research. Each year The Smithsonian Associates creates and presents more than 750 individual programs that deliver exceptional opportunities for learning and growth. Programs range from lectures on a multitude of topics to the performing arts for audiences of all ages, in the Washington, D.C., area and across the country.
# # #
SI-384-2012