"Time and Navigation" Interactives and Website
April 10, 2013
Media Fact Sheet
Addthis Share Tools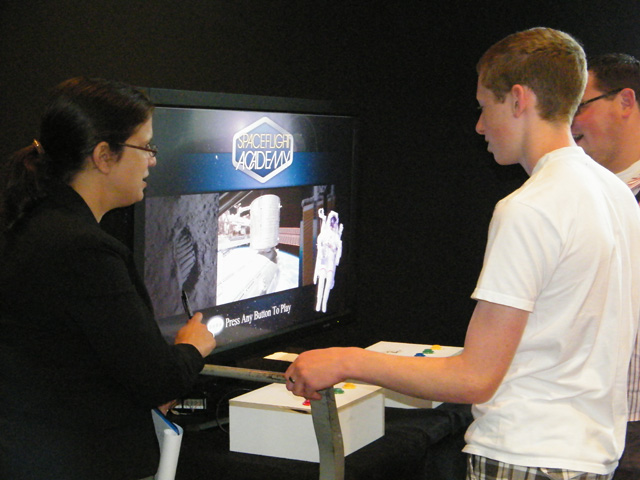 Interactives offer visitors a more participatory experience. By engaging in role-playing activities based on solid educational content, people of all ages can simulate for a few minutes "what it's really like" and at the same time increase their understanding of technologies now taken for granted.
Navigate at Sea!
You are a navigator aboard the Flying Cloud clipper ship and you must determine your ship's position. You measure the altitude of a star with an actual sextant and are guided through the process of calculating your position. This interactive involves both a computer interface and a hands-on opportunity to use a sextant.
Navigate the Skies!
You are a navigator on the first flight attempt from the mainland to Hawaii in 1925. Along the way you must choose the appropriate navigation method (celestial, radio or dead reckoning) for the conditions. You will also learn about different technologies available to air navigators and how they evolved over time.
Navigate in Space!
You are a navigator on Earth and your mission is to get a spacecraft to Mercury.You must use gravity assist from Venus to complete the mission, you must track your spacecraft and you must maneuver your spacecraft to make a course adjustment. This interactive introduces the concept of gravity assist, explains how spacecraft are tracked and illustrates that course corrections are made in order to maintain the desired trajectory.
Changing the Way We Fly
For 60 years we have relied on a safe, but cumbersome, system of radio navigation beacons and radar for guiding commercial air travel. The GPS revolution is creating new opportunities for greener, safer and more efficient air travel with better access to remote areas. Find out how these changes are taking place in a series of four interactive scenarios.
Website
Visit the "Time and Navigation" website (live April 12) to experience all that the exhibition has to offer and more. Engaging stories, images, video, newsreels, animations and online interactives tell the story of getting from here to there. Online visitors are invited to share their navigation stories and thoughts on current topics in time and navigation through a monthly poll question. Professional navigators are invited to describe their work and encourage careers in the PNT (Positioning, Navigation and Timing) industry. The Research Journal (blog) highlights ongoing research by Smithsonian staff, and learning resources are provided for educators to use in the classroom. No matter where they are, people can learn about "Time and Navigation" and actively participate in the conversation at timeandnavigation.si.edu and on the museum's social media platforms (airandspace.si.edu/connect) using the #TimeNav hashtag.
# # #
SI-131-2013