April 10, 2013
Media Fact Sheet
Addthis Share Tools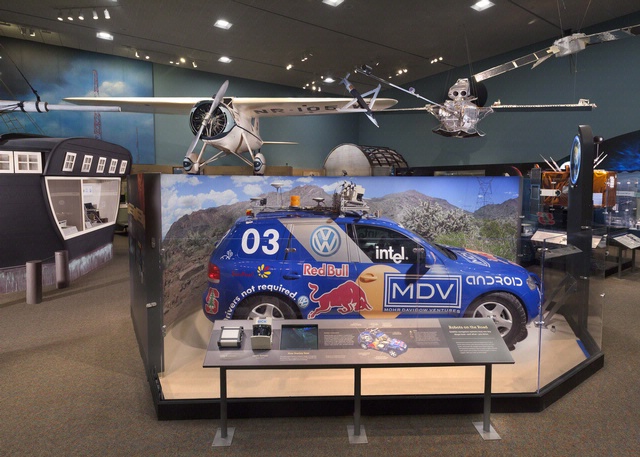 Title: "Time and Navigation: The Untold Story of Getting from Here to There"
Opening April 12, National Mall building, Gallery 213
Presented in collaboration with the National Museum of American History
Sections: Navigating at Sea; Navigating in the Air; Navigating in Space; Inventing Satellite Navigation; and Navigation for Everyone.
Sponsored by: Northrop Grumman Corporation, Exelis Inc., Honeywell, National Geospatial-Intelligence Agency, U.S. Department of Transportation, Magellan, National Coordination Office for Space-Based Positioning, Navigation & Timing, Rockwell Collins and the Institute of Navigation
"Time and Navigation" explores how revolutions in timekeeping over three centuries have influenced how people find their way. Through artifacts dating from centuries ago to today, the exhibition traces how timekeeping and navigational technologies evolved to help navigators find their way in different modes of travel, in different eras and different environments. Methods are traced through the decades to show that of all the issues facing navigation, one challenge stands out: The need to determine accurate time.
Highlights include:
The earliest sea-going marine chronometer made in the United States, produced by Bostonian William Cranch Bond during the War of 1812

Objects collected during the U.S. Exploring Expedition commanded by Lt. Charles Wilkes, a four-year voyage that began in 1838 to map the Pacific, Antarctica and the northwest coast of America

Historic instruments, including a mariner's astrolabe, dating from 1602; a Ramsden sextant and his dividing engine; several chronometers; and models of clocks designed by Galileo

The Winnie Mae, the airplane Wiley Post flew in his record-breaking flights around the world in 1931 and 1933

The sextant Charles Lindbergh used to learn celestial navigation, and a clock used by him during his milestone transatlantic flight in the Spirit of St. Louis

Timing equipment from the Deep Space Network of NASA ground stations used to navigate missions to other planets

A flight spare (duplicate spacecraft) of Mariner 10, the first spacecraft to reach Mercury

Stanley, a robotic vehicle built to drive and navigate itself

The NIST-7 atomic clock that served as the U.S. time standard in the 1990s

The navigation system from the nuclear submarine U.S.S. Alabama

A satellite from the Transit system used for global navigation before GPS

A test satellite for global navigation built at the Naval Research Laboratory
# # #
SI-130-2013