October 6, 2022
Media Fact Sheet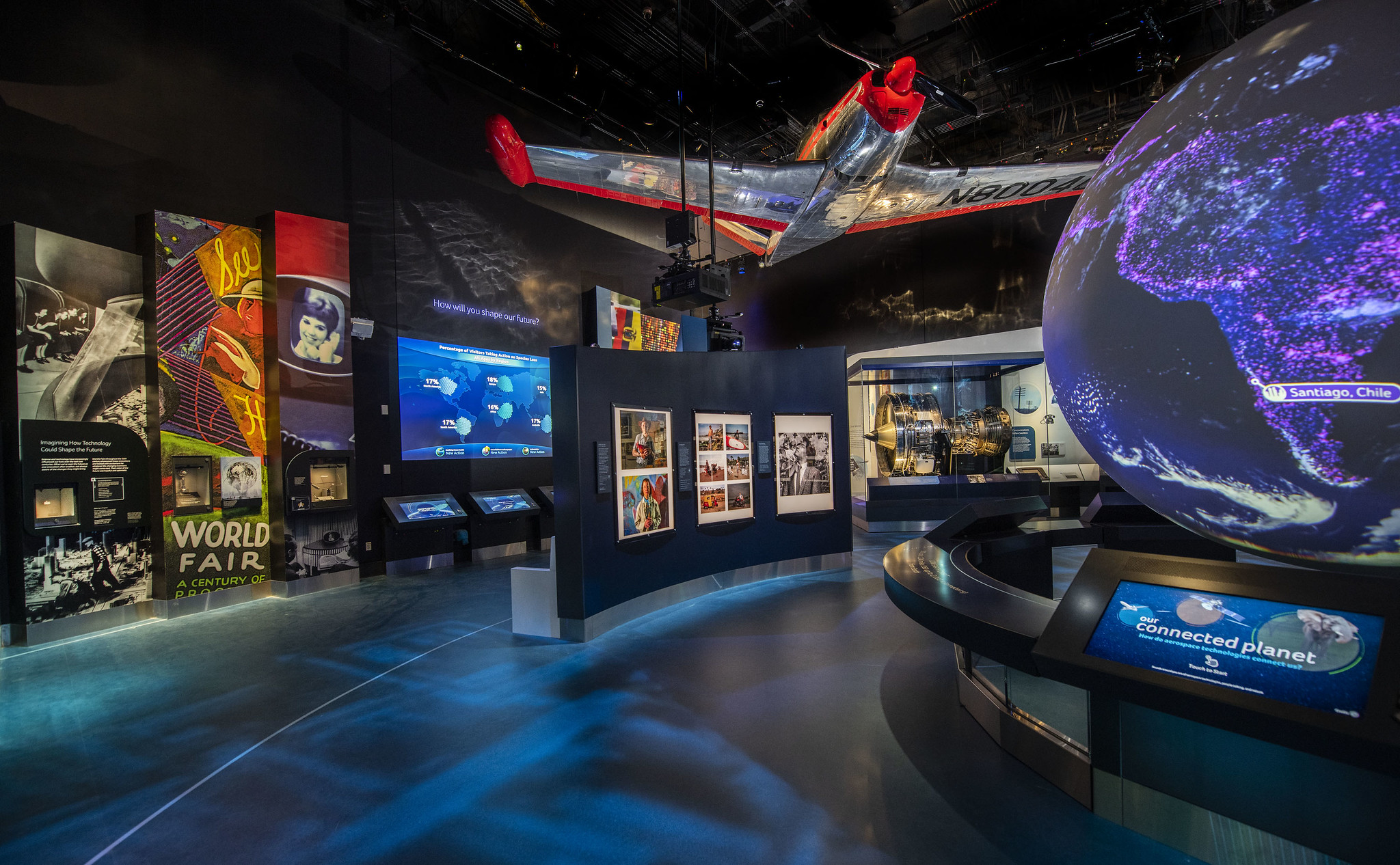 Title: "One World Connected"
Opening: Oct. 14, 2022, National Air and Space Museum, Washington, D.C., Gallery 207
"One World Connected" tells the story of how flight fostered two momentous changes in everyday life: the ease in moving people, voices and images across vast distances and a new perspective of Earth as humanity's home. Featuring an array of communications satellites and other tools that have increased human connection, the exhibition asks visitors to consider how interconnection touches their lives and to imagine how advances in technology might impact the near future.
Highlights include:
Beechcraft 35 Bonanza "Friendship Flame": In 1951 and 1952, Congressman Peter F. Mack Jr. flew this Beechcraft 35 Bonanza aircraft—the Friendship Flame—on a round-the-world goodwill tour, visiting 31 countries on three continents. He met with ordinary citizens and dignitaries, promoting peaceful dialogue.
Intelsat II: Intelsat II satellites were placed in Geostationary Earth Orbit in the mid-to-late 1960s, creating the first communications network that was nearly global in scope. Thanks to these satellites, the reach of telephone and television service became more widespread and reliable.
ATS 6 Antenna: Sponsored by NASA, this 1970s satellite tested new technologies for space communications. Once in orbit, the antenna opened like an umbrella, ready to send signals to small antennas on Earth. For the first time, many remote communities could benefit from space communications.
Iridium Communications Satellite: In 1998, a network of 66 Iridium satellites allowed users to make mobile phone calls and send data from anywhere in the world—a first in the history of telephones. 
Sirius FM-4 Satellite Radio: Sirius Radio developed the first generation of space-based, commercial radio service, launching in 2001 with three satellites and more than 150 channels. The FM-4 satellite is a flight-ready backup.
Interactive Globe: Visitors can interact directly with the 10-foot spherical projection via six interactive kiosks that enable deeper dives into the gallery's key themes. Each kiosk will allow visitors to pull up data visualizations on the globe itself.
Bird and Shark Tracking Tags: The Smithsonian Environmental Research Center used this type of tag to track bull and dusky sharks. The tag activates when a shark surfaces, sending location and water temperature data to a satellite above. Some satellite tracking tags are so small and lightweight, they are suitable for birds. Tags like this allowed scientists at the Smithsonian's National Zoo to study gulls' migratory routes, which can extend thousands of miles.
ISS Cupola Interactive: A looped sequence of breath-taking imagery filmed from the International Space Station offers a broad overview of Earth that visitors see from a recreated ISS Cupola.
Sponsors: Jacobs, Iridium, Matt and Ann Desch, Intelsat, Maxar, Katherine and James Murray, David M. Tolley, Carolyn and Peter D. Nesgos, Jason Rowe, Thales
"One World Connected" Curator Bios
Teasel Muir-Harmony 
Teasel Muir-Harmony is a historian of science and technology and curator of the Apollo Spacecraft Collection. Before coming to the Smithsonian, she earned a doctorate from the Massachusetts Institute of Technology (MIT) and held positions at the Center for History of Physics at the American Institute of Physics and the Adler Planetarium and Astronomy Museum. Muir-Harmony's current research focuses on the history of space diplomacy, examining how Project Apollo shaped and mediated the United States' role on the global stage. She serves on the Smithsonian exhibit committees for "Destination Moon" and "One World Connected," and she is the historical advisor for a six-part television series on Project Apollo. In addition, Muir-Harmony co-organizes the Space Policy and History Forum and teaches in Georgetown University's Science, Technology and International Affairs program.  
Jennifer Levasseur
Jennifer Levasseur is the curator for the museum's astronaut cameras, chronographs, the Space Shuttle and International Space Station programs. She serves as the program committee chair for the biennial Mutual Concerns of Air and Space Museums conference, and as a department representative on digital projects. She curated the 2015 spacewalk anniversary exhibit, "Outside the Spacecraft: 50 Years of Extra-Vehicular Activity" and currently serves as exhibition curator for the "Moving Beyond Earth" exhibition. Prior to her work at the National Air and Space Museum, she worked as a historic interpreter at George Washington's Mount Vernon. She started her Smithsonian career with an internship in the National Portrait Gallery's Department of Photography. Levasseur received her Bachelor of Arts in history from the University of Michigan in 1999, a Master of Arts in American studies from The George Washington University in 2002 and a doctorate in history at George Mason University in 2014.
# # #
SI-312-2022