National Museum of African American History and Culture
May 19, 2021
Media Fact Sheet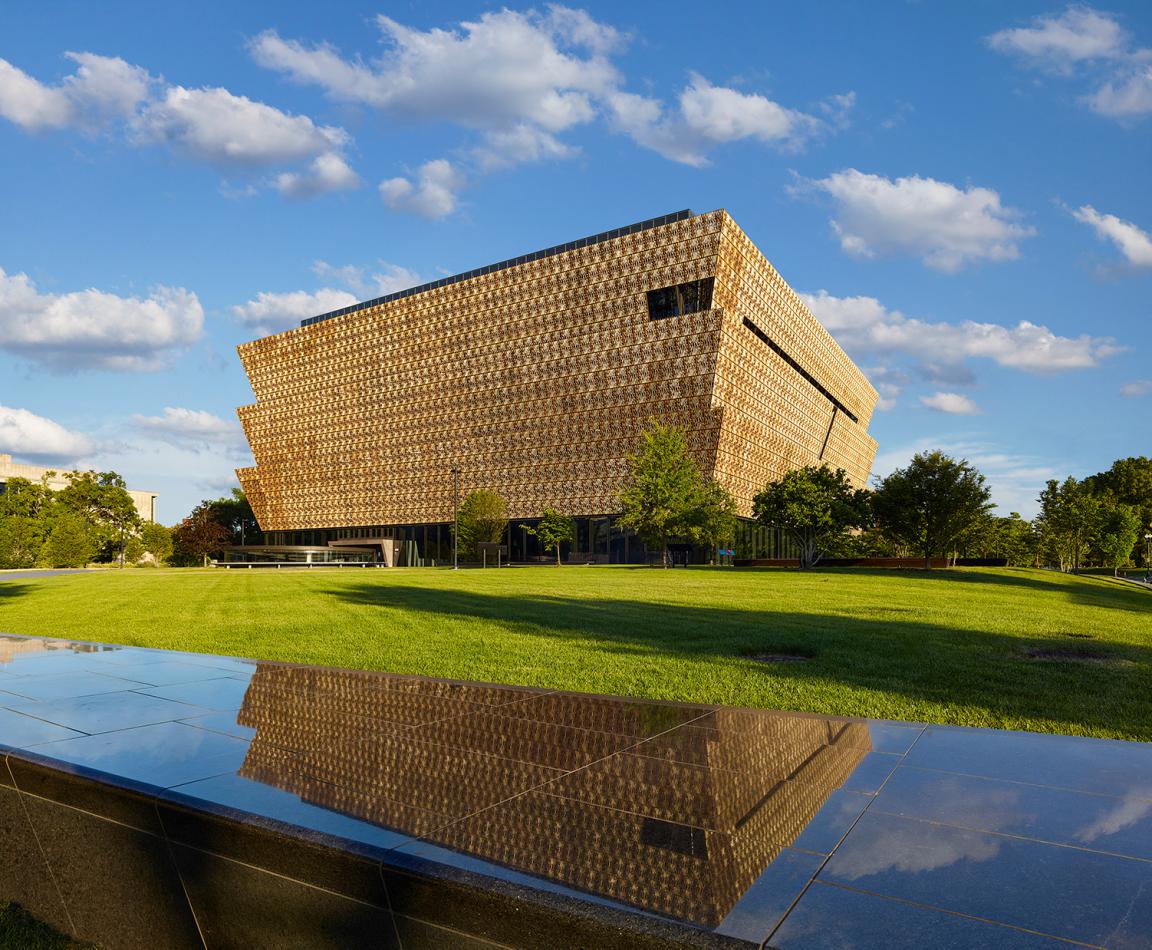 Director: Kevin Young
Total Full-Time Employees: 205
Annual Budget (federal and trust) FY 2019: $51 million
Approximate Number of Artifacts: More than 37,000
Visiting the Museum
The Smithsonian's National Museum of African American History and Culture (NMAAHC) reopened to the public Friday, May 14. Visitors can reserve passes online at nmaahc.si.edu/passes or by phone at 1-800-514-3849. NMAAHC requires a free timed-entry pass for each visitor.
Walk-up visitors cannot be accommodated during the museum's initial reopening phase.
The museum will be closed to the public on Monday and Tuesday each week during the initial reopening phase and open Wednesday through Sunday from 11 a.m. to 4 p.m. Some exhibitions, interactives and indoor spaces are closed or will operate at limited capacity. Visitors should check the museum's website for updated resources and other pertinent information. 
Background
The National Museum of African American History and Culture opened Sept. 24, 2016, on the National Mall in Washington, D.C. Occupying a prominent location next to the Washington Monument, the nearly 400,000-square-foot museum is the nation's largest and most comprehensive cultural destination devoted exclusively to exploring, documenting and showcasing the African American story and its impact on American and world history. The museum was created in 2003 by an act of Congress, establishing it as part of the Smithsonian. In 2018, the museum earned LEED Gold certification from the U.S. Green Building Council (USGBC) for design and construction.
Collections
The museum has about 3,000 objects on display from its collection of more than 37,000.
Highlights include:
Harriet Tubman collection, including her hymnal (1876); lace shawl (c. 1897), given to her by Queen Victoria; and family photographs from her funeral

Jim Crow railroad passenger car (

1922)

Chuck Berry's red Cadillac convertible (c. 1973)

Black Fashion Museum Collection (about 1,000 items)

Tuskegee Airmen Trainer Plane, an open-cockpit PT-13 Stearman (c. 1944) used to prepare Tuskegee Airmen for World War II combat duty

Works of art by Charles Alston, John Biggers, Elizabeth Catlett, Jacob Lawrence, Lorna Simpson, Romare Bearden, Archibald John Motley Jr., Henry O. Tanner and Frederick C. Flemister, Kehinde Wiley, Amy Sherald

Emmett Till's casket (1955)—the glass-topped casket that held the body of 14-year-old Emmett Till, whose murder in Mississippi helped galvanize the civil rights movement

Slave cabin from Edisto Island, South Carolina (1853)
Building Layout and Inaugural Exhibitions
Located at the corner of 15th Street N.W. and Constitution Avenue, the museum includes exhibition galleries, an education center, a theater, an auditorium, a café, a store and offices. The museum's inaugural exhibitions focus on broad themes of history, culture and community. These exhibitions have been conceived to help transform visitors' understanding of American history and culture and to help visitors adapt to and participate in changing definitions of American citizenship, liberty and equality. The exhibitions employ a range of interpretive and experiential strategies.
Fifth floor 
Staff offices, boardroom
Fourth floor 
Culture Galleries: "Musical Crossroads," "Cultural Expressions," "Visual Art and the American Experience," "Taking the Stage"
Third floor 
Community Galleries: "Power of Place," "Making a Way Out of No Way," "Sports: Leveling the Playing Field," "Double Victory: The African American Military Experience"
Second floor 
The Robert Frederick Smith Explore Your History Family Center, Education Classrooms, Earl W. and Amanda Stafford Center for African American Media Arts, Digital Learning Interactives
First floor 
Heritage Hall, welcome center, Corona Pavilion, store
Concourse 0 
Atrium, Contemplative Court, Oprah Winfrey Theater, "A Century in the Making," Special Exhibitions Gallery, Sweet Home Café
Concourse 1 
History Gallery—"A Changing America: 1968 and Beyond"
Concourse 2 
History Gallery—"Defending Freedom, Defining Freedom: Era of Segregation 1876–1968"
Concourse 3 
History Gallery—"Slavery and Freedom 1400–1877"
Recent Awards
2018 AIANY Design Awards Best in Competition, Center of Architecture
2018 People's Voice Webby Award
2018 People's Voice Webby Award, The International Academy of Digital Arts and Sciences
2017 Award for Excellence in Architecture, American Institute of Architects (AIA|DC)
2017 Thea Award for Outstanding Achievement, Themed Entertainment Association
2017 James Beard Finalist, Best New Restaurant, James Beard Foundation
2017 Gold Muse in Interactive Kiosk Category, American Alliance of Museums
2017 Best Teaching Mobile App, American Association of School Librarians
2017 Audience Honor, Gold Shorty Award, Sawhorse Media
# # #
SI-166-2021