Across our nation and region, we have both an overabundance of food and a staggering number of people who struggle to find their next meal. This reality has only worsened with the COVID-19 pandemic. The Food for the People outdoor exhibition—which will be joined by an indoor exhibition when the museum reopens its building—asks us to confront this reality by meaningfully considering where our food comes from, who produces, processes, and prepares it, who has access to it, and what impact it has on our collective health.
The exhibition offers a safe, outdoor experience where visitors can be introduced to food justice issues we face in the Washington, D.C. area, as well as local people and ideas that are making our food system more just and sustainable. Also featured in the exhibition is a sculptural tribute to the food workers whose labor makes our food possible, from the farmworkers and meat processors to the grocery store and restaurant workers.
Watch a Food for the People video walk through with Curator Samir Meghelli »
This exhibition is part of ACM's theme year, "Our Food, Our Future." This year long examination of food history, culture, and justice include the exhibition, Food for the People: Eating and Activism in Greater Washington and related programs designed to educate and encourage audiences to take action to create a more equitable future.
Lead Sponsor: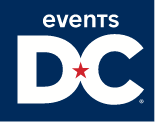 Supporting Sponsor: The Hillside Foundation – Allan & Shelley Holt
Additional support provided by AARP DC.
This exhibition also received federal support from the Latino Initiative Pool, administered by the Smithsonian Latino Center.