In the air, on land and in the sea, the Smithsonian is building new tools for resilient ecosystems—innovative approaches and technologies that will provide knowledge and open up avenues to understand and protect our planet.
A flash of orange flame cut through the pitch-black Florida sky over Cape Canaveral. At 12:30 a.m. on Friday, April 7, a SpaceX Falcon 9 shot into space, carrying an instrument that will transform the way we understand and monitor air pollution across North America—Tropospheric Emissions: Monitoring of Pollution, or TEMPO. Hundreds of scientists, engineers and administrators from the Smithsonian Astrophysical Observatory (SAO)—part of the Center for Astrophysics I Harvard & Smithsonian—NASA, Ball Aerospace and elsewhere watched in transfixed silence from the nearby Banana Creek launch viewing site, their faces briefly illuminated by the light from liftoff. A decade of their research was hurtling into orbit. But the real work is about to begin.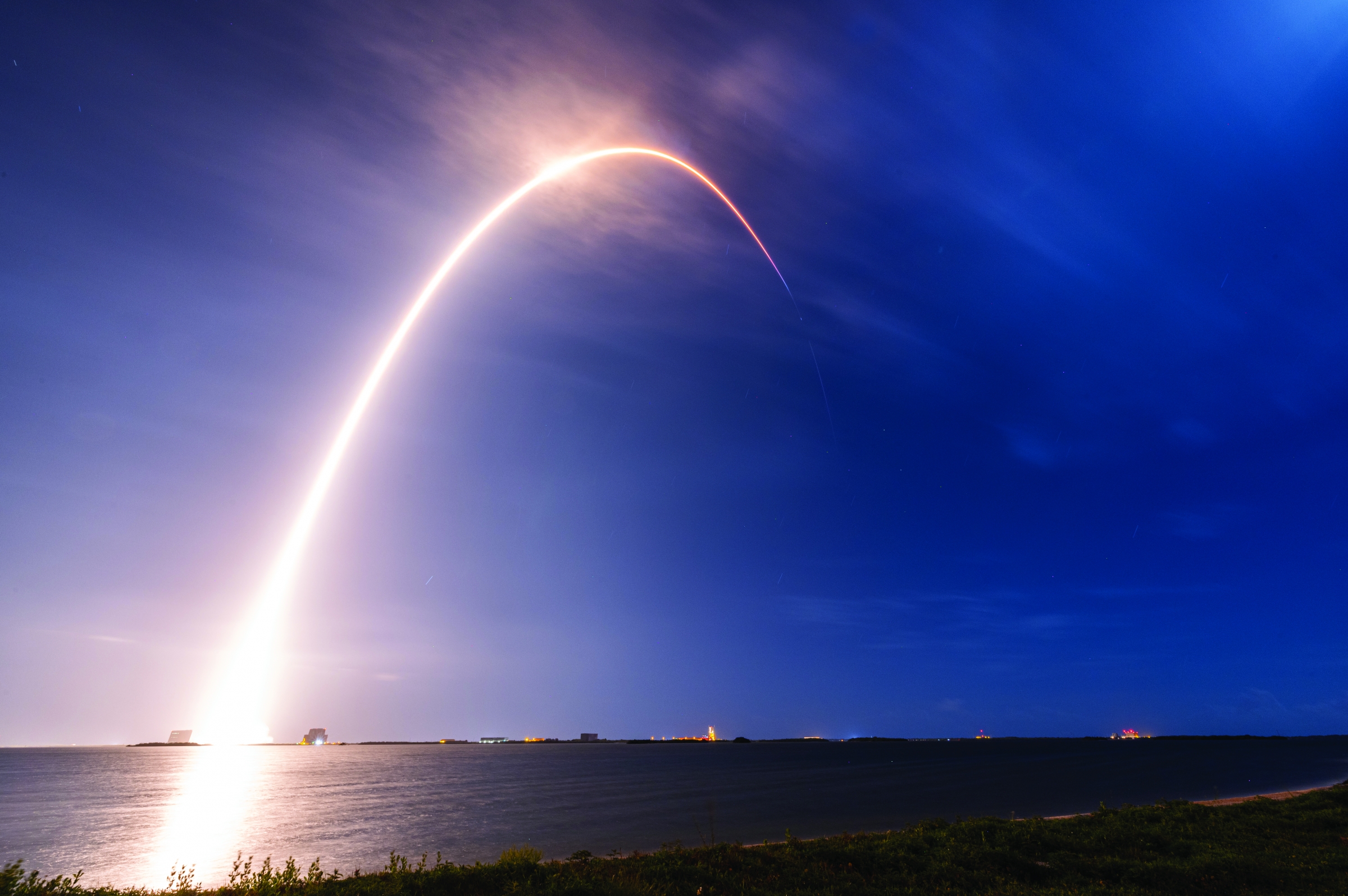 New Science for Cleaner Air
"Our TEMPO slogan is 'it's about time,' which hints at TEMPO's ability to provide hourly air pollution data," said Xiong Liu, atmospheric physicist at SAO and deputy principal investigator for TEMPO. "The atmospheric science community saw the need for these measurements 15 years ago or more."
But scientists didn't have the right tools. For decades, they measured key chemical pollutants in Earth's atmosphere with low-earth-orbit satellites that swept the sky, checking ozone, aerosols, sulfur dioxide and nitrogen dioxide emissions at specific locations a handful of times a day. Their understanding of pollutants in the air we breathe was incomplete.
Kelly Chance, senior physicist at SAO, principal investigator for TEMPO and a leader in atmospheric science, envisioned a new approach: a satellite locked in geostationary orbit, taking hourly measurements over North America. TEMPO was born.
TEMPO is the first instrument that provides full coverage of daily activities on the continent, measuring emissions from and chemical transformations that follow morning traffic and seasonal crop harvests. It can focus on specific sites for longer periods, pinpointing emissions from huge events such as forest fires.
Chance, Liu and a team of engineers and researchers—including Raid Suleiman, John Davis and John Houck at the Smithsonian and partners at NASA's Langley Research Center—developed the idea. A cohort of scientists and engineers from SAO, NASA, Ball Aerospace, Maxar Technologies and Intelsat brought TEMPO to life: one of the most ambitious collaborative efforts among public, private and commercial institutions in the history of atmospheric research.
Data for All
TEMPO's measurements of the Earth's atmosphere will be put to work in many ways. Caroline Nowlan, TEMPO team member and atmospheric physicist at SAO, will help verify and release the data to the NASA Atmospheric Science Data Center, where it will be accessible to a vast community of scientists—and the public.
"Some people will forecast air quality in their communities," said Nowlan. "Epidemiologists will look at acute exposure to certain chemicals for ties to disease and other health issues. Farmers want to understand the effects of ozone pollution on crop activity." More than 300 individuals and organizations have requested access to the first tranche of data, expected in the fall.
"TEMPO will provide critically important data that individuals, students, educators, community leaders and policymakers can use to answer: What am I breathing?" said Lisa Kewley, director of the Center for Astrophysics | Harvard & Smithsonian. "What pollutants are impacting me and my community? Are there simple things we can do to breathe cleaner air?"
The TEMPO team is also building tools, such as curriculum guides and an interactive app, so that young people can parse TEMPO data accessible in real time by region. Erika Wright, education specialist at SAO, hopes the data will inspire young people to examine the causes and effects of pollutants in their communities. "It's not just about having access to the data," said Wright. "It's having the supports to unpack and investigate it that can really make a difference."
Learn more: tempo.si.edu
Tapping the Power of Mangroves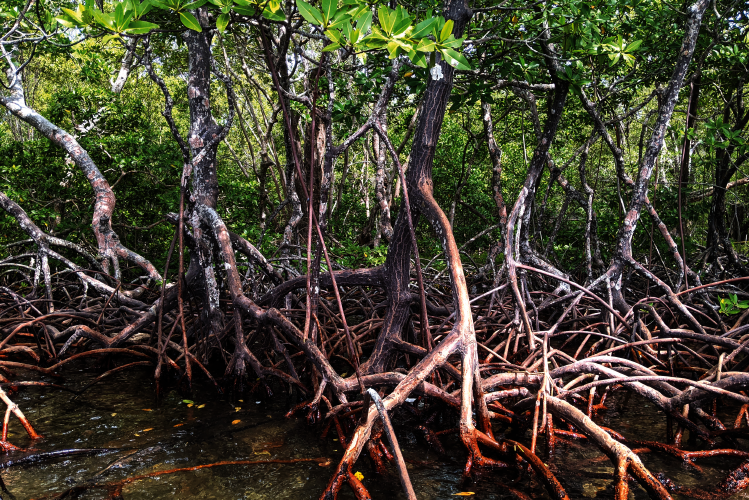 Scientists have long known that mangroves—woody trees and shrubs that grow in coastal waters—hold a hidden superpower: They are highly efficient at storing carbon, offering an intriguing solution to mitigate climate change.
In fact, researchers estimate that mangrove ecosystems can store up to 10 times more carbon than rainforests.
But fully tapping mangroves' potential is a challenge. These tropical plants face numerous threats, including sea level rise, deforestation and changing land use. And, in individual countries, a lack of country-level data makes it difficult to assess how much carbon their mangroves are absorbing.
In Belize and Panama, nations with extensive mangrove ecosystems, Smithsonian scientists are working to gather data on mangrove carbon stocks and build local capacity for conservation.
Data from these projects—led by national governments in collaboration with the Smithsonian, nongovernmental organizations, universities and local scientists—will be critical to help Belize and Panama update their plans (or nationally determined contributions) every five years to meet the U.N. Paris Agreement targets for reducing carbon emissions.
Belize Estimates Blue Carbon
In April 2023, researchers with the Smithsonian Environmental Research Center and collaborating partners published a study in the journal Science of the Total Environment introducing the first national estimate of mangrove carbon stocks in Belize.
The two-year study found that Belize's 58,000 hectares (about 14,300 acres) of mangroves hold 25.7 million metric tons of carbon—roughly equivalent to the mass of 14 million cars. The total varied greatly from estimates drawn from global or regional averages, highlighting the need for country-specific studies.
Scientists measure mangrove carbon in two ways: through biomass (the content of plants themselves) and sediment (below ground). For biomass carbon, measurements such as the width of tree trunks and the height of trees are recorded. For sediment, physical samples are taken from a core that extends three meters in depth.
Science-to-Policy Step
Study findings represent the first data released from the Belize Blue Carbon project, led by a group of Belizean and international scientists. Measuring blue carbon—or carbon stored in marine and coastal ecosystems, including mangroves and seagrass—is an important science-
to-policy step for Belize in meeting its commitments under the Paris Agreement.
The government of Belize has set goals of protecting an additional 12,000 hectares and restoring 4,000 hectares of mangroves by 2030.
Hannah Morrissette, Ph.D., coastal wetland biogeochemist at the Smithsonian Environmental Research Center, said the Belize project can serve as a model for other countries.
"A collaborative project of this magnitude and unique holistic nature has set the baseline for future blue carbon research," Morrissette said. "The results show how different mangrove ecosystems can be from one another in a relatively small area and highlight their importance to national climate change mitigation goals."
Results from the Belize study are available as part of the Coastal Carbon Atlas, a free global blue carbon data clearinghouse managed by the Smithsonian Environmental Research Center.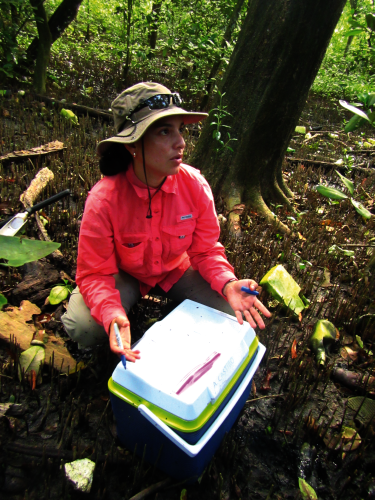 Panama Study Set for 2023
Panama is next in line to develop its own mangrove dataset; an 18-month study along the Pacific coast is set to begin in summer 2023. Led by the government of Panama, scientists from the Smithsonian Environmental Research Center, Smithsonian Tropical Research Institute (Panama) and partner organizations will aggregate and analyze data to shape national policy on wetlands and climate change.
Training is also a priority. Smithsonian scientists will help train local community members, students, protected area managers, and government and nongovernmental organization staff to identify mangrove species, assess health conditions and estimate carbon content in biomass and soil.
"Training is important to help Panama implement plans and policies to expand mangrove conservation in the long term," said Tania Romero, laboratory manager, Naos Marine Lab, Smithsonian Tropical Research Institute. "In addition, it is an investment in local efforts for conservation and in building research capacity across the country."
The Pew Charitable Trusts provided support for blue carbon/mangroves research in Belize and Panama.
Learn more: serc.si.edu/labs/marine-conservation
An Ocean in a Drop of Water
Watch Meyer give an in-depth lecture on eDNA, recorded in September 2022.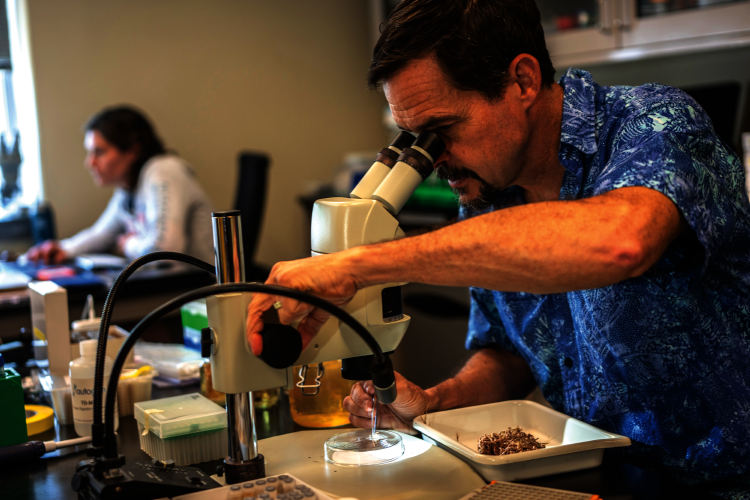 "Do you have to see a skunk to know there's a skunk?" This is one of several analogies Chris Meyer, research zoologist and chair of the Department of Invertebrate Zoology at the National Museum of Natural History, uses to describe environmental DNA (eDNA)—a powerful tool that combines sampling and DNA mapping technology to survey the ocean's biodiversity.
"With net trawls or visual surveys fish can slip away, ship crews can't navigate certain waters, or you miss the nightlife if you're only sampling during daylight hours," Meyer said. "With eDNA, you can do it in the dark, in unclear water or over hard bottoms—it's nondestructive, noninvasive. And, you can trust it," the same way you trust your nose to tell you that a skunk is nearby.
Proven. Simple. Efficient. Accurate.
A clear picture of biodiversity across oceans is an essential starting point to track and understand when and how oceans change—and how everything people do, from fishing to building dams, impacts marine life.
Most living organisms shed DNA constantly, regenerating cells and leaving traces behind—like a skunk's signature scent, lingering in the air. A single liter of ocean water can contain traces of DNA from hundreds of creatures. With eDNA, scientists only need one liter of water to extract and organize each strand of DNA in the sample and match those traces to DNA sequences of known species. This provides a detailed, accurate snapshot of what's living below the surface.
It can also illuminate the gaps—pinpointing unknown DNA sequences that suggest something mysterious is present, which might merit investigation.
Environmental DNA is a proven technology: simple, efficient and extraordinarily precise. The Smithsonian has used it to track fish species in Florida and the Chesapeake Bay; the U.S. Geological Survey is using it to track rare and invasive species.
What's missing? A centralized, coordinated effort to bring stakeholders together and harness the power of eDNA on a grand scale.
A Library of Life
The Smithsonian has an unrivaled collection of marine specimens—millions of DNA samples from fish, mammals, mollusks, coral and more, digitized and available online.
"We can provide a trusted reference library," said Meyer, a database to help identify species from eDNA samples taken across the country and beyond. "And we have experts across the Smithsonian working on pathogens, invasive species, corals—we provide the full ecological picture."
The institution also has the capacity to lead and draw people together: federal agencies, conservation organizations, communities that rely on fishing to make their living, and many more. These groups can work together to create standardized metrics to 
measure biodiversity: a common language to compare ecosystems across oceans and across decades to discover what keeps them healthy and protect those in danger of harm.
Meyer is working with agencies and partners to make a common eDNA reference library a reality. "We want to be able to 'smell' all the species, not just the skunk," he said. "We should be the trusted broker of biodiversity knowledge—and encourage more people to innovate, go further, see what comes next."
Learn more: ocean.si.edu
Published Summer 2023 in IMPACT Vol. 9. No 2
Your gift fuels innovation, inspiration and exploration for lifelong learners everywhere. Make a gift today.