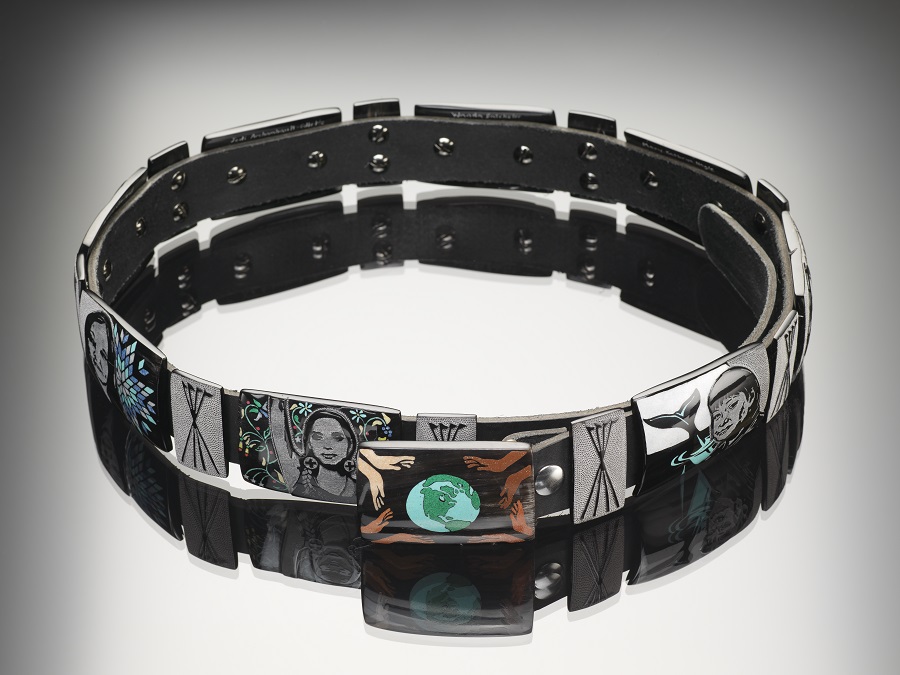 Kevin and Valerie Pourier's belt, titled Winyan Wánakikśin, won the 2018 Best of Show award at the Southwestern Association for Indian Arts Indian Market. Winyan Wánakikśin means "Women Defenders of Others." The belt encompasses the current political climate, the power of women, contemporary Native issues and a shift in the Native art world that combines beauty with advocacy.
Kevin Pourier (Oglala Lakota) spent hours researching, interviewing and collaborating with eight influential Native women to create the design. Each individual portrait panel took about two weeks to complete. Those represented on the belt include Native women who have distinguished themselves in the arts, advocacy, politics and many other areas; they are:
Susie Silook (Yupik and Inupiaq)—author and sculptor who protests violence against Native women
Tipiziwin Tolman (Wichiyena Dahkota and Hunkpapa Lakota)—someone who has "overcome significant adversity" and is attempting to preserve Lakota culture and language
Mary Kathryn Nagle (Cherokee Nation)—playwright and lawyer specializing in sovereignty of Native nations
Wanda Batchelor (Washoe)—the first woman ever selected to lead the Washoe Tribe of Nevada and California
Jodi Archambault (Hunkpapa and Oglala Lakota)—was President Barack Obama's special assistant for Native American affairs
Roxanne Swentzell (Santa Clara Pueblo)—an artist whose artworks are revered for their social commentary and have been shown across the globe
Suzan Shown Harjo (Cheyenne and Hodulgee Muscogee)—poet, writer and policy advocate who has helped Natives recover more than 1 million acres of tribal land
Bobbi Jean Three Legs (Hunkpapa Lakota)—largely credited for helping start the Standing Rock movement when she was just 24 years old
The belt is in the collection of the Smithsonian's National Museum of the American Indian.