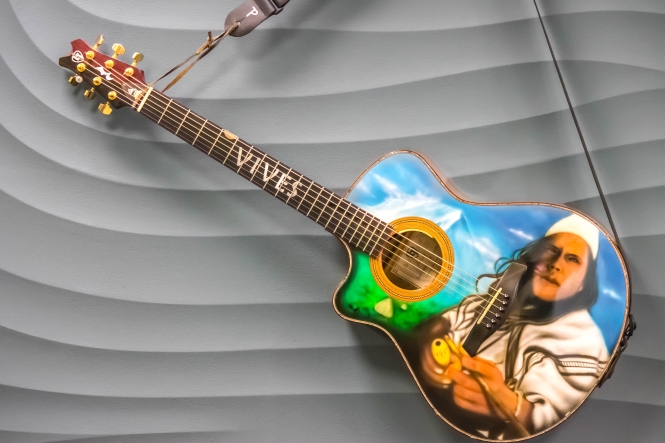 Vallenato Makes History at the Smithsonian
This guitar belonged to Colombian Grammy Award-winning singer and composer Carlos Vives, who is best known for his vallenato chart-topping hits. Vallenato is an upbeat music from the Atlantic coast of Colombia that fuses instruments of European origin (like the accordion) with poetic lyrics about everyday life and traditional dance rhythms of the Arhuaco, indigenous people from the Sierra Nevada mountains.
Vallenato was traditionally played by farm workers and cowboys and rarely heard outside of rural towns. In the 1990s, Carlos Vives, among other musicians, fused vallenato with pop and rock music, giving the genre a broader appeal. It gained popularity not only within Colombia but across Latin America and Latino communities around the world, including in the United States. Vives last played this guitar in concert at the Hollywood Bowl in Los Angeles Sept. 7, 2016.  
The guitar was recently acquired by the Smithsonian's National Museum of American History. It was handmade by a Colombian luthier and features an airbrushed portrait of an Arhuaco.
Vallenato was inscribed on UNESCO's List of Intangible Cultural Heritage in Need of Urgent Safeguarding in December 2015.
Learn more about vallenato in the Smithsonian Channel documentary "The Accordion Kings."