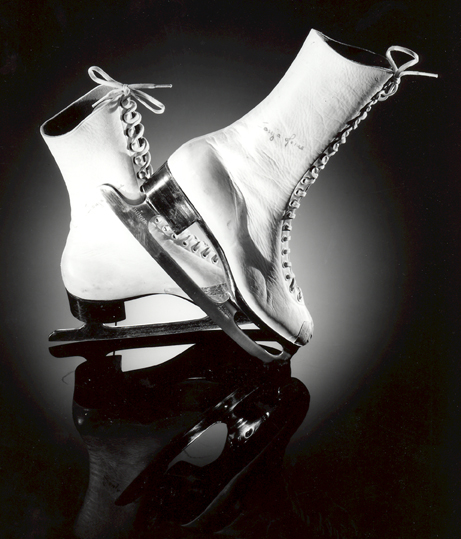 Sonja Henie's Autographed Ice Skates, c. 1945
During the late 1920s and 1930s, Norwegian figure skater Sonja Henie introduced the trend of white leather ice skates to the world of women's figure skating—a major change from the black ice skates typically worn by women. She transformed her skill and glamour into a career as one of the world's most famous figure skaters in the rink and on the screen.
In 1927, Henie won the first of 10 consecutive world skating titles at Oslo, captivating the crowd with her dance style of figure skating. She was the first to combine choreography with figure skating, and the first to introduce the short skirt and white skates look that is very popular today.
Over the next decade Henie won Olympic titles in ladies singles at the 1928, 1932 and 1936 Winter Olympic Games.
In 1936, 20th Century Fox signed her to star in "One in a Million," and she soon became one of Hollywood's leading actresses.
In 1976, she was among the first 20 athletes to be initiated into the World Figure Skating Hall of Fame.
This item is one of 137 million artifacts, works of art and specimens in the Smithsonian's collection. It is not on display.
For more info, visit http://americanhistory.si.edu/sports/exhibit/superstars/henie