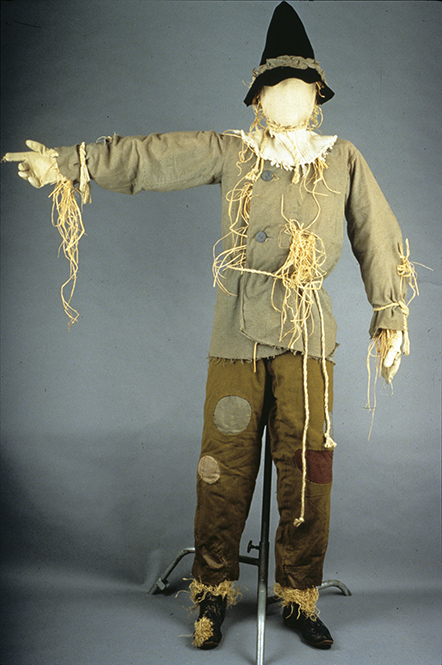 Scarecrow Costume, 1939
On Aug. 25, 1939, "The Wizard of Oz" debuted in theaters nationwide. Ray Bolger wore this straw-stuffed patchwork costume as the Scarecrow, one of the friends who accompanied Dorothy to the Emerald City in the 1939 Technicolor film. Designed by Gilbert Adrian, MGM's premier costume artist, the straw-stuffed clothing fit loosely enough so that Bolger could perform his comedic dance number, "If I Only Had a Brain."
Not shown in this photo is the most troublesome part of Bolger's scarecrow outfit—a rubber face mask designed to simulate burlap. Under the hot lights on the set, the mask was stifling and it frequently had to be replaced. The mask did not last for more than a day—Bolger went through more than 40 masks during the shooting of the movie.
Gwendolyn R. Bolger, Bolger's wife, donated this costume to the Smithsonian in 1987 with a spare bag of raffia to stuff the costume.
This item is one of 137 million artifacts, works of art and specimens in the Smithsonian's collection and is not on display.
For more info, visit http://americanhistory.si.edu/collections/object.cfm?key=35&objkey=9061