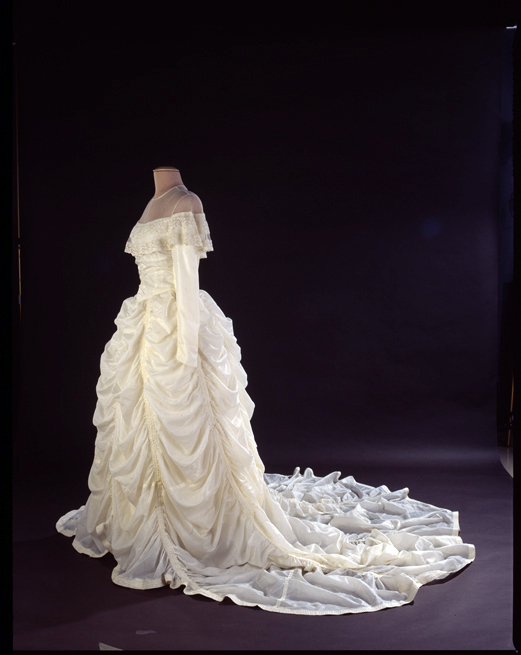 Parachute Wedding Dress, 1947
This wedding dress was made from a nylon parachute that saved Maj. Claude Hensinger during World War II.
In August 1944, Hensinger, a B-29 pilot, and his crew were returning from a bombing raid over Yowata, Japan, when their engine caught fire. The crew was forced to bail out. Suffering from only minor injuries, Hensinger used the parachute as a pillow and blanket as he waited to be rescued. He kept the parachute that had saved his life. He later proposed to his girlfriend Ruth in 1947, offering her the material for a gown.
Ruth wanted to create a dress similar to one in the movie Gone with the Wind. She hired a local seamstress, Hilda Buck, to make the bodice and veil. Ruth made the skirt herself; she pulled up the strings on the parachute so that the dress would be shorter in the front and have a train in the back. The couple married July 19, 1947. The dress was also worn by the their daughter and by their son's bride before being gifted to the Smithsonian.
This item is one of 137 million artifacts, works of art and specimens in the Smithsonian's collection. It is not on display.