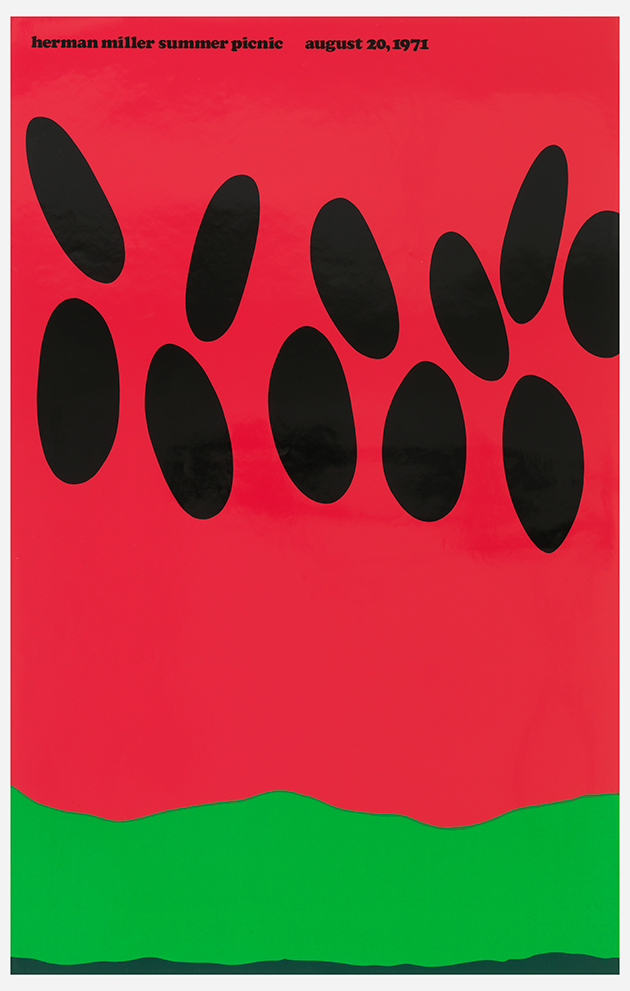 Few things say "summer is here" like watermelon. Its bright colors and refreshing taste go hand-in-hand with summer picnics and poolside snacking.
This poster, depicting a zoomed-in view of a watermelon, was designed by American graphic designer Stephen Frykholm to promote the Herman Miller Furniture Company's 1971 summer picnic.
When he started at Herman Miller in 1970, Frykholm was asked to create a poster for the company's annual summer picnic. He was familiar with screen printing (a printmaking technique that can yield a large, bold area of color) so he agreed to design a poster. Frykholm had learned to screen print while volunteering for the Peace Corps where he taught at a Nigerian trade school for young women.
The poster was a hit, and Frykholm went on to design 20 picnic posters during the next 20 years. Many of his Herman Miller summer picnic posters are now in the permanent collections of various museums, including this print at the Cooper Hewitt, Smithsonian Design Museum. Frykholm was the first in-house graphic designer at Herman Miller, where he worked for more than 40 years rising to the rank of vice president of creative design. His work not only shaped Herman Miller's graphic identity, but also raised the standard of American corporate design.
Excerpted from the Object of the Day blog by Caitlin Condell.