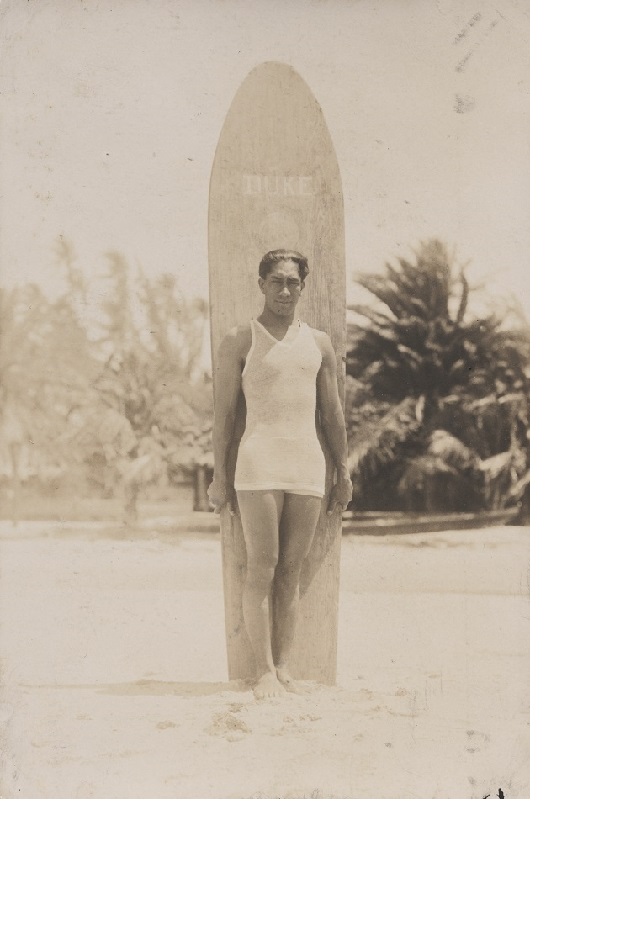 Duke Kahanamoku transformed the Hawaiian pastime of surfing into a worldwide competitive sport.
Kahanamoku (Aug 24, 1890–Jan 22, 1968) was born in Honolulu. He first made headlines as a record-breaking swimmer who introduced the flutter kick to the sport. After winning gold medals at the 1912 and 1920 Olympics, he was arguably the best swimmer of his era, described by the press as a "human fish."
In 1912, he introduced surfing to California, and two years later he awed crowds in Australia with his board skills. Kahanamoku developed his own line of surf clothing and experimented with smaller, lighter boards, like the one in this early photograph.
In 1925, his legend was secured and he won praise around the world when he helped rescue passengers from a sinking boat off the southern California coast. He and his surfer friends pulled 12 survivors to safety using their surfboards (five drowned). The police chief of Newport, California, said at the time, "Kahanamoku' s performance was the most superhuman rescue act and the finest display of surfboard riding that has ever been seen in the world. Many more would have drowned but for the quick work of the Hawaiian swimmer."
There are statues of Kahanamoku on Honolulu's Waikiki Beach and in Huntington Beach, California.
This image is in the collection of the Smithsonian's National Portrait Gallery; it is not currently on display. A stamp featuring Kahanamoku issued in 2002 can be viewed at the Smithsonian's National Postal Museum. The Smithsonian's National Museum of American History acquired a surfboard shaped by Kahanamoku in 2015.