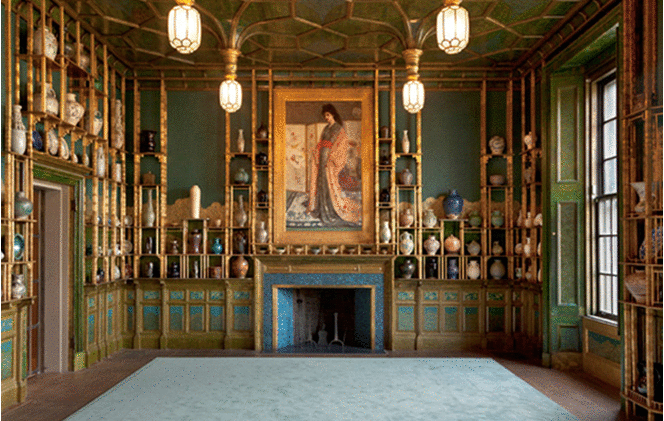 This animated GIF marks the opening of painter Darren Waterston's immersive installation "Filthy Lucre" May 16 at the Smithsonian's Arthur M. Sackler Gallery. "Filthy Lucre" reimagines James McNeill Whistler's famed "Peacock Room"—an icon of American art—as a decadent ruin collapsing under the weight of its own creative excess. Forging a link between inventive and destructive forces, "Filthy Lucre" forms the centerpiece of an unprecedented exhibition that highlights the complicated tensions between art and money, ego and patronage, and acts of creative expression in the 19th century and today.  
Like the Peacock Room, "Filthy Lucre" is a total work of art. Every surface is encrusted with gold or dripping with paint. Gilded stalactites hang from surfaces. Splintered shelves buckle and tilt. Brightly colored ceramics drip with glaze or shatter, their debris littering the floor. An eerie glow seeps between the shutters, while a haunting soundscape by the band BETTY emanates from the walls.
The museums will host special after-hours events to celebrate the exhibition, including Third Thursdays open houses May 21, June 18 and July 16 featuring special guests and one-of-a-kind activities, and an always-popular Asia After Dark party June 13,  themed "PEACOCKalypse."
Visit the exhibition webpage to view the video, explore Darren Waterston's "Filthy Lucre"and explore "The Peacock Room."