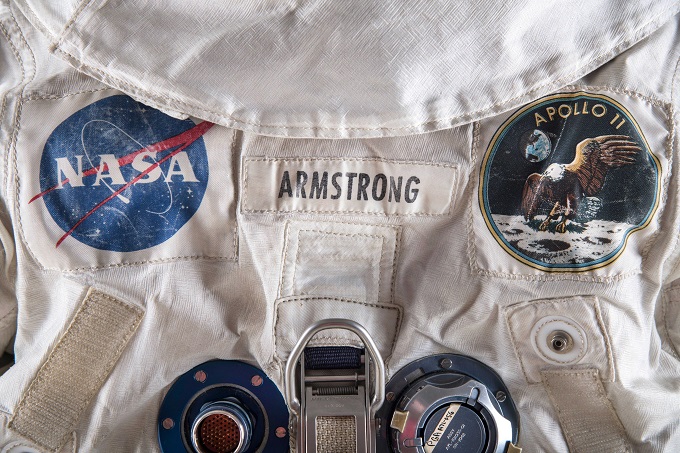 The patch worn by the Apollo 11 astronauts who went to the moon in July 1969, Neil Armstrong, Edwin "Buzz" Aldrin Jr. and Michael Collins, depicts an American bald eagle landing on the lunar surface, an olive branch representing peace in its talons and the Earth floating in the dark void of space behind it. It was primarily designed by Collins with input from Armstrong and Aldrin, and fellow Apollo astronaut Jim Lovell suggested that the eagle be the patch's focus since it is the national bird of the United States. There is a mistake, however, on the patch: viewed from the lunar surface, the Earth's shadow would be on the bottom, not on the left as depicted.
The crew decided to keep their names off the patch. Collins said, "We wanted to keep our three names off it because we wanted the design to be representative of everyone who had worked toward a lunar landing, and there were thousands who could take a proprietary interest in it, yet who would never see their names woven into the fabric of a patch. Further, we wanted the design to be symbolic rather than explicit."
The Apollo 11 patch is still the only patch in NASA's history to not feature the crew members' names.
The patch can be seen on Neil Armstrong's spacesuit back on view at the Smithsonian's National Air and Space Museum.
See more artifacts from Apollo 11 at the National Air and Space Museum.