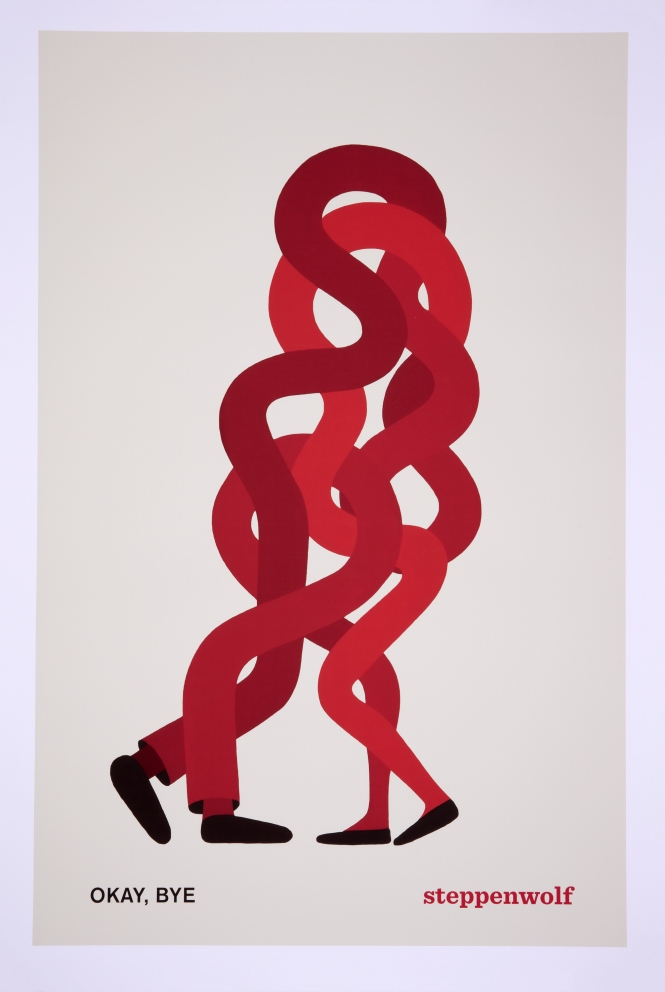 This poster in the Cooper Hewitt, Smithsonian Design Museum was created by graphic designer and visual artist Geoff McFetridge in 2015 to advertise the play Okay, Bye performed by the Steppenwolf Theatre Company in Chicago. Its bold colors and simple forms communicate a visual riddle: Two pairs of black shoes distinguish the owners of the intertwined red legs that dominate the composition, but the gradient tones of the curving lines make it impossible to decide conclusively if the viewer is looking at one or two bodies.
Okay, Bye, written by Joshua Conkel and directed by Margot Bordelon, tells the story of two former high school classmates who unexpectedly meet again in their 30s at Alcoholics Anonymous. While the two women did not have much in common as teenagers, their present lives are both on the verge of disaster, and their shared situations entangle them in a complicated friendship. McFetridge's poster conveys the complexity of their relationship through this simple yet surreal design—the bizarre figuration presents a strong but unsettling connection, with the characters' union at once signifying closeness as well as a claustrophobic embrace.
McFetridge won the Cooper Hewitt's National Design Award for Communication Design in 2016.