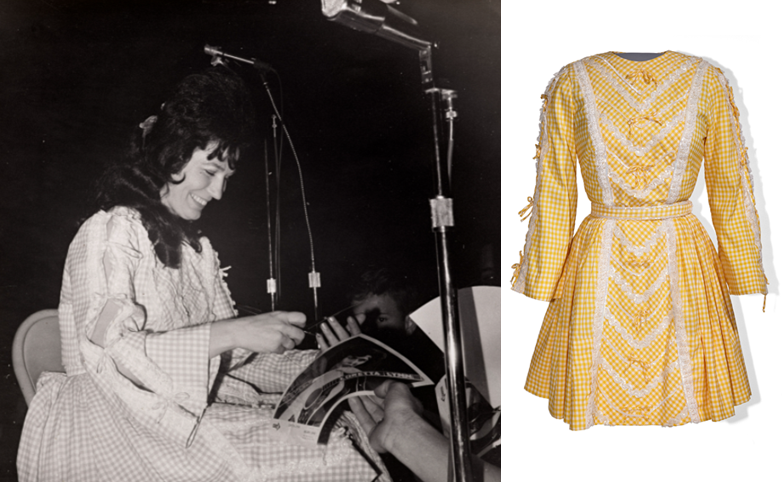 This 1960s yellow gingham dress was made by Loretta Lynn and worn during her early concert performances on the road and as a featured singer on The Wilburn Brothers Show. Lynn recently donated the dress and several other items to the Smithsonian's National Museum of American History.
The dress indicates how, despite limited resources, she created her own aesthetic that connected with different audiences, eventually launching her to national stardom.
Lynn has been writing and performing country music since the 1950s. Born in Butcher Hollow, Van Lear, Kentucky, in 1932 and married at 15, she signed on to her first record label in 1960. A young mother who raised six children, some of her most affecting songs in the 1960s and 1970s portrayed the then often unspoken challenges of women's lives, including domestic abuse and social traumas. In 1972's "Rated X," she confronted the enduring stigma cast upon divorced women. "The Pill," released in 1975, proved controversial for professing the freedoms granted women through birth control and was banned by country music radio stations across the U.S.
Lynn's life was chronicled in her autobiography and 1980 Hollywood film, Coal Miner's Daughter. Named a Kennedy Center honoree in 2003, she received a Grammy Lifetime Achievement Award in 2010, and in 2013, she was awarded a Presidential Medal of Freedom. An iconic female country artist for multiple generations, she continues to delight fans with chart-topping new music.
Lynn donated other items to the museum, including her original handwritten set of lyrics for the 1968 hit song "Fist City," a first edition of Coal Miner's Daughter, the photo (shown above) where she is signing autographs in the yellow gingham dress, a gown and matching pair of shoes she wore to the 2003 Kennedy Center Honors State Dinner and others.
View items from other artists in the museum's country music collection and at this Smithsonian Spotlight on country music.