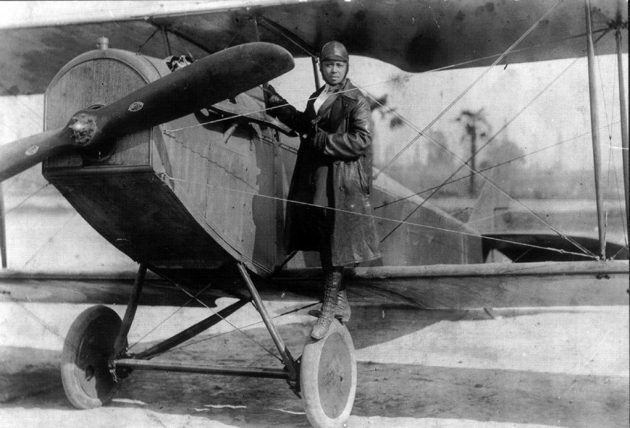 Bessie Coleman (Jan. 26, 1892–April 30, 1926) was a bravely independent and determined woman who decided that learning to fly provided an exciting challenge. However, in the early years of the 20th century she had two strikes against her: her race and her gender. Unable to secure flight training in the U.S., she went to France and earned her license. On June 15, 1921, Bessie Coleman received the first pilot's license issued to an African American woman from the Federation Aeronautique Internationale.
She returned to the U.S. in September 1921, and began to perform in the Chicago area, doing aerobatic loops and figure eights. Her ultimate goal was to establish a flying school for African Americans. In 1925, she moved to Houston and performed throughout the South, drawing multicultural crowds. She had nearly reached her goal of opening a school, when on April 30, 1926, she went up for a practice flight for a May Day celebration in Jacksonville, Fla. About 10 minutes into the flight, the Curtiss Jenny biplane, piloted by her mechanic and publicity agent, William Wills, went into a nosedive and flipped. Coleman, whose seat belt was unfastened, was thrown from the plane and plunged to her death. It was later found that a wrench that had been used to service the engine had jammed the controls.
Coleman's brief flying career inspired many young African Americans to enter the field of aviation and her legacy continues in the form of aviation clubs and tributes, including the 1995 U.S. postal stamp issued in her honor. Each year on the anniversary of her death, African American pilots fly over "Brave Bessie's" grave in Chicago to drop flowers in her honor.
This photo is in the collection of the National Air and Space Museum; for more information on Coleman and other early aviation pioneers visit Black Wings: African American Pioneer Aviators.
Watch a video of Coleman flying and see her postal stamp in the collection of the Smithsonian's National Postal Museum.