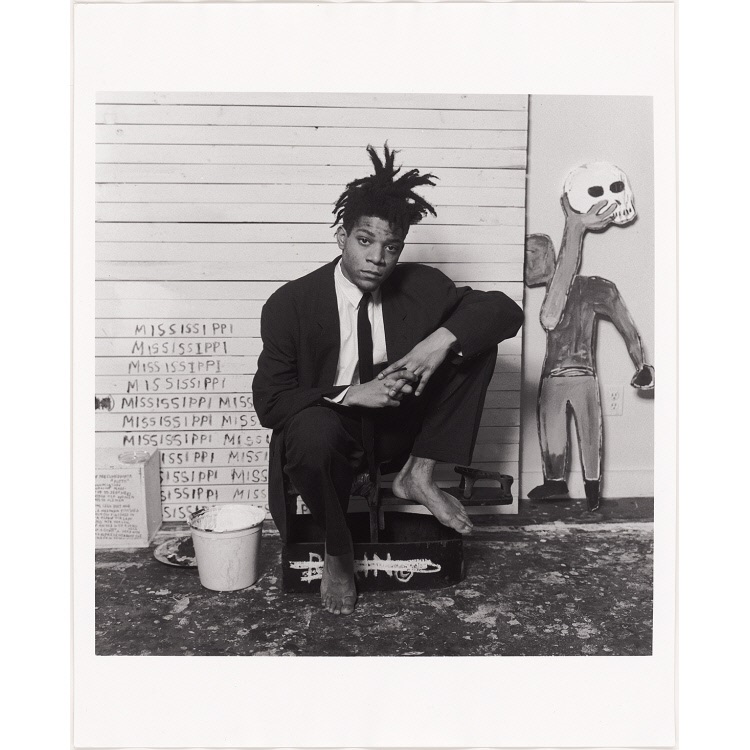 "I don't think about art while I work. I try to think about life."—Jean-Michel Basquiat
In a prolific yet short-lived career, Jean-Michel Basquiat (Dec. 22, 1960–Aug. 12, 1988) became a leading figure in the 1980s art world.
He ran away from home as a teenager, initially supporting himself by selling homemade postcards and sweatshirts on the street. He emerged as an underground celebrity in 1978, when he and a friend began spray-painting cryptic social messages all over Lower Manhattan. Working in a graffiti style, he moved into producing artworks that combined expressively drawn elements like figures and skulls with incisive words and phrases. Soon he was exhibiting at major galleries and museums and collaborating with Andy Warhol.
As a black man in a predominantly white art scene, he found himself increasingly caught between a desire for fame and a fear of being exploited by that world. Like his heroes Charlie Parker and Jimi Hendrix, Basquiat burned bright but died young of a drug overdose.
Made in the context of New York City in the '80s, his artwork resonates just as strongly today, highly desired by collectors and the subject of exhibitions worldwide.
See one of Basquiat's artworks on the Smithsonian American Art Museum's website and learn more about him, his contemporaries, influence and legacy at Smithsonian's Learning Lab.
This photo of Basquiat is in the Smithsonian's National Portrait Gallery; it is not on display.