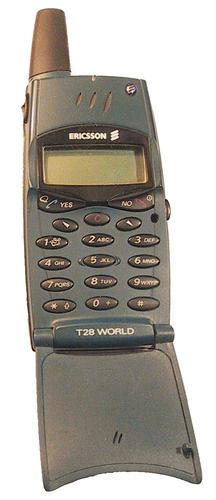 On Sept. 11, 2001, Bob Boyle, who worked near the World Trade Center, used this cell phone to contact family and friends.
Boyle was one of thousands of New Yorkers who tried to use their cell phones to reach loved ones. But the attack cut cellular service from the transmission tower located on top of the north tower of the World Trade Center, and other service became quickly overloaded.
Boyle, an amateur photographer, wanted to stay near the disaster scene to take pictures but reluctantly left in search of a better phone signal. Soon thereafter, the south tower collapsed near where he had been standing.
He credits this cell phone with saving his life.
This phone is in the collections of the Smithsonian's National Museum of American History. In the months after Sept. 11, the Smithsonian was designated by Congress as an official repository of objects, images and stories to help future generations comprehend these events and their significance.
To commemorate this year's anniversary, the National Museum of American History created a digital portal called September 11: An Evolving Legacy. The museum is inviting people to share their own experiences through September 11: Stories of a Changed World to create a more robust national collection of stories that include diverse experiences, not only recording and exploring the day and immediate aftermath of Sept. 11, but also the longer-lasting and varied effects on people's lives.