World War II Ace Will Give 2013 Lindbergh Lecture at Smithsonian's National Air and Space Museum
May 13, 2013
News Release
Addthis Share Tools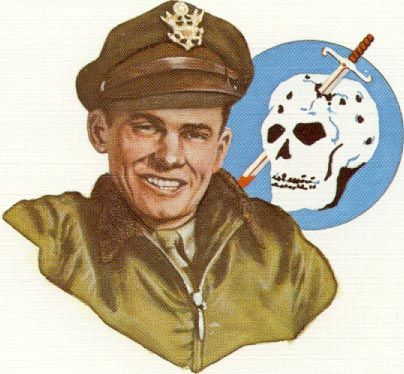 Retired Col. Clarence E. "Bud" Anderson, USAF, one of the most decorated fighter pilots of World War II, will present the National Air and Space Museum's 2013 Charles A. Lindbergh Memorial Lecture. Established in 1982, the Lindbergh Lecture is annually held in May to commemorate the pioneer aviator's solo nonstop flight across the Atlantic Ocean May 20-21, 1927. It is the museum's longest-running named lecture series. The lecture will be held Tuesday, May 21, at 8 p.m. in the museum's Lockheed Martin IMAX Theater. It is free, but tickets must be reserved in advance. Information is available on the museum's website at Lindbergh Lecture.
In his presentation titled "Memoirs of a Triple Ace: Cold War Flight Testing," Anderson will talk about being a test pilot and later serving as chief of the Fighter Flight Test Section at Wright-Patterson Air Force Base in Ohio. From the hair-raising to the bizarre, his experiences ranged from participating in an experiment that brought jet fighters to the wingtips of larger bombers for range extension to flying F-84 Parasite fighters modified to be launched and retrieved from huge B-36 bombers. Anderson also served as chief of Flight Test Operations and Deputy Director of Flight Test at the Air Force Flight Test Center at Edwards Air Force Base in California.
Born in Oakland, Calif., in 1922, Anderson learned to fly at age 19. By 22, he was flying combat missions in a P-51 escorting heavy bombers into Germany. One of a small number of pilots who served in World War II, Korea and Viet Nam, he is a veteran of 116 combat missions and has logged more than 7,500 flying hours. He has flown 130 different types of aircraft and, at 91, is still an avid pilot.
"Col. Bud Anderson represents the special qualities associated with Charles Lindbergh: exceptional skill, determination and courage," said Gen. J.R. "Jack" Dailey, director of the museum. "Having distinguished himself as an aviator just 15 years after Lindbergh's flight, he stands as a living reminder of the extraordinary progress achieved in American aviation over the decades."
This year's event is made possible by United Technologies Corp.
The National Air and Space Museum building on the National Mall in Washington, D.C., is located at Sixth Street and Independence Avenue S.W. The museum's Steven F. Udvar-Hazy Center is located in Chantilly, Va., near Washington Dulles International Airport. Both facilities are open daily from 10 a.m. until 5:30 p.m. (closed Dec. 25). Admission is free, but there is a $15 fee for parking at the Udvar-Hazy Center.
# # #
SI-187-2013