Works by Renowned Contemporary Native Artists at the National Museum of the American Indian in New York June 2
April 2, 2012
News Release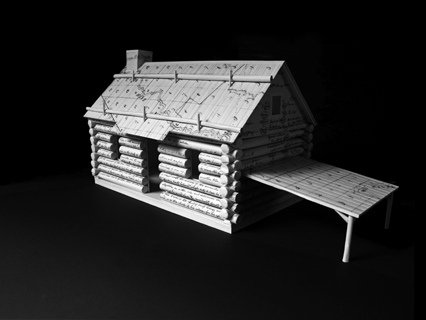 Contemporary works from the 2011 Eiteljorg Contemporary Art Fellowship will be at the Smithsonian's National Museum of the American Indian in New York, the George Gustav Heye Center, from Saturday, June 2, through Sunday, Sep. 23. "We Are Here! The Eiteljorg Contemporary Art Fellowship," organized by the Eiteljorg Museum of American Indians and Western Art, includes Bonnie Devine (Ojibwa), Skawennati (Mohawk), Duane Slick (Meskwaki/Ho-Chunk), Anna Tsouhlarakis (Navajo/Creek/Greek) and invited artist Alan Michelson (Mohawk).
Michelson is a New York-based installation artist who addresses the intersection of American landscape, history and memory in his work. His "Frontier Land" (2011) comprises small log cabins created out of paper, some printed with significant text. Collectively addressing the issues of colonialism, Westward expansion, treaty rights and violence, the four small log cabins are each modeled after an iconic image: Thomas Cole's peaceful painting "Home in the Woods" (1847) using paper printed with the 1809 Treaty of Fort Wayne, a cabin that appears in John Ford's film The Searchers, an enflamed cabin modeled from a scene in Buffalo Bill's Wild West Show and the burning cabin from the original Disneyland presentation of Frontierland.
Devine is an artist, curator, writer and educator. Much of her work focuses on the connections to the land and history of her forbearers, the Anishnaabec of the Canadian Shield. Her thesis on the history and effects of uranium mining in the region, which destroyed traditional traplines and left hills of yellow sulphuric acid, grew into several projects, including "Canoe" (2003). Woven from her scholarly notes, the work becomes a vessel of scientific information and discovery.
Skawennati creates art projects for cyberspace, including "TimeTraveler," http://www.timetravellertm.com/index.html. This website, designed for a time when time travel is available through high-tech goggles, features 10 episodes following a 22nd-century Mohawk man and his experience of different historical conflicts. Created in the online virtual world of Second Life, her work also speaks to Native peoples using technology to create, communicate and comment about their own cultures.
Slick is a painter, performer, storyteller and teacher. His works, which employ a variety of styles and media, discuss the relationships people have with multiple histories, cultural connections and notions of time. Recent white-on-white paintings of multiple cast shadows, including "Shadow Portrait in Twilight" (2007), speak to this complexity of being with an ephemeral and transitory figure.
Tsouhlarakis works with sculpture, installation and video. "Intervals of Pretense" (2011) is a 36-channel digital video. The viewer sees dozens of Native hands, at work, making beads, baskets, pottery and other traditional arts. But the process of making is a simulacrum—the works are complete, and the process is performative only. The entire work is about process and the multiple dimensions of time, an internal, ongoing dialogue about creation.
The Eiteljorg Museum in Indianapolis holds the world's foremost collection of contemporary Native American art.
The Eiteljorg Museum of American Indians and Western Art seeks to inspire an appreciation and understanding of the art, history and cultures of the American West and the indigenous peoples of North America. The museum, which opened in 1989, is located in Indianapolis' White River State Park. For general information about the museum and to learn more about exhibits and events, call (317) 636-WEST (9378) or visit www.eiteljorg.org.
The Smithsonian's National Museum of the American Indian's George Gustav Heye Center is located at One Bowling Green in New York City, across from Battery Park. The museum is free and open every day except Christmas day from 10 a.m. to 5 p.m., and on Thursdays until 8 p.m. By subway, the museum may be reached by the 1 to South Ferry, the 4 or 5 to Bowling Green or the R or W to Whitehall Street. The museum's website is www.americanindian.si.edu.
# # #
SI-146-2012