The Wildest Dream: Conquest of Everest Opens at the National Museum of Natural History's Johnson Imax Theater Aug. 6
July 30, 2010
News Release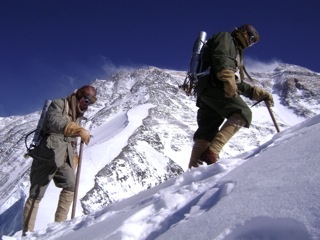 The Johnson Imax Theater presents its newest feature-length, giant screen film, The Wildest Dream: Conquest of Everest, starting Aug. 6. The theater is located on the first floor of the Smithsonian's National Museum of Natural History at 10th Street and Constitution Avenue N.W. in Washington, D.C.
The Wildest Dream chronicles the ascents of Mt. Everest by mountaineers George Mallory, Sandy Irvine, Conrad Anker and Leo Houlding. Mallory and Irvine were two of the first climbers to attempt scaling the world's tallest peak and disappeared 800 feet from the summit in 1924. Anker is a modern-day climber who discovered Mallory's body in 1999. In 2007 he and Houlding retraced Mallory and Irvine's fateful route in an attempt to solve the great mystery of whether or not they succeeded in reaching the top of the mountain before they died.
The film explores Mallory's obsession to be the first to reach the summit, and it is presented through Anker and Houlding's 2007 climb, newly discovered archival footage from the 1924 expedition, the recovered journal entries of Irvine and through the touching correspondence between Mallory and his wife Ruth.
Produced by National Geographic, The Wildest Dream is a visually stunning film that lends itself to the grand scale of the Johnson Imax Theater's six-story screen. Audiences will feel as though they are experiencing the sights and sensations of scaling the 29,029-foot mountain and will get an up-close look at the challenges that come with this extraordinary struggle of man versus mountain.
The Wildest Dream was narrated by Academy Award nominee Liam Neeson (Schindler's List) and features the voices of two-time Academy Award nominee Ralph Fiennes (The English Patient), Natasha Richardson (The Parent Trap), Hugh Dancy (Black Hawk Down) and Alan Rickman (Harry Potter and the Half-Blood Prince).
The 93-minute, PG-rated film opens Aug. 6 and will be shown exclusively at the Johnson Imax theater nightly through August and on weekend evenings in September. Tickets are available now and may be reserved up to two weeks in advance. The public may visit any Smithsonian Theaters box office, call toll-free (866) 868-7774, TTY (202) 633-8850 or visit www.si.edu/imax for information or to purchase tickets.
# # #
SI-334-2010