What to Expect When You're Expecting Author Heidi Murkoff Receives the 2012 John P. McGovern Award
November 19, 2012
News Release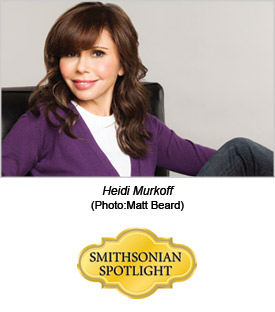 The Smithsonian Associates announces author Heidi Murkoff as the recipient of its 2012 John P. McGovern Award for behavioral sciences. On Tuesday, Dec. 11, at 7:30 p.m., Murkoff will discuss her work as an author and family health information advocate in a social, medical and communications landscape that is vastly different from that of previous generations. The discussion and award presentation will take place in the lecture hall of the Smithsonian's National Museum of African Art at 950 Independence Ave. S.W.
The evening honors Murkoff as the recipient of the 2012 John P. McGovern Award, which recognizes individuals in the behavioral sciences and other professions whose work has made outstanding contributions to the understanding of the family in America. Administered by The Smithsonian Associates, the prize originated with the late John P. McGovern, a celebrated allergist and humanitarian who made a gift to the Smithsonian for this purpose. Past recipients include James P. Comer, Joan Ganz Cooney, Andre M. Weil, Eric Carle, Alvin F. Poussaint, Marian Wright Edelman and Judy Blume.
In more than a dozen books designed for parents, Murkoff has guided a generation of families through pregnancy and the early childhood years. Created in 1983 to fill a void that Murkoff discovered as she searched for a practical, reliable guide during her own pregnancy, What to Expect When You're Expecting has been dubbed the "pregnancy bible," with more than 17 million copies now in print. With subsequent books for adults covering topics from preconception to babysitting and kids' volumes explaining what to expect at the dentist or when a sibling is on the way, Murkoff has become the go-to voice of modern parenting. A popular website, www.whattoexpect.com, brings the What to Expect expertise to a wide online community. In addition, Murkoff's What to Expect Foundation has extended her reach and influence, with health literacy programs and parenting resources designed for underserved families; visit www.whattoexpect.org to learn more.
This event is free to the public; tickets must be reserved to attend. For tickets and information, the public may call (202) 633-3030 or visit www.smithsonianassociates.org.
The Smithsonian Associates offers life-enriching, educational and cultural experiences inspired by the Smithsonian's exhibitions, collections and research. Each year The Smithsonian Associates creates and presents more than 750 individual programs that deliver exceptional opportunities for learning and growth. Programs range from lectures on a multitude of topics to the performing arts for audiences of all ages, in the Washington, D.C., area and across the country.
# # #
SI-506-2012