"Voyage of Time: The IMAX Experience" To Open at National Air and Space Museum IMAX Theater Oct. 7
New Film From Acclaimed Director Terrence Malick
September 26, 2016
News Release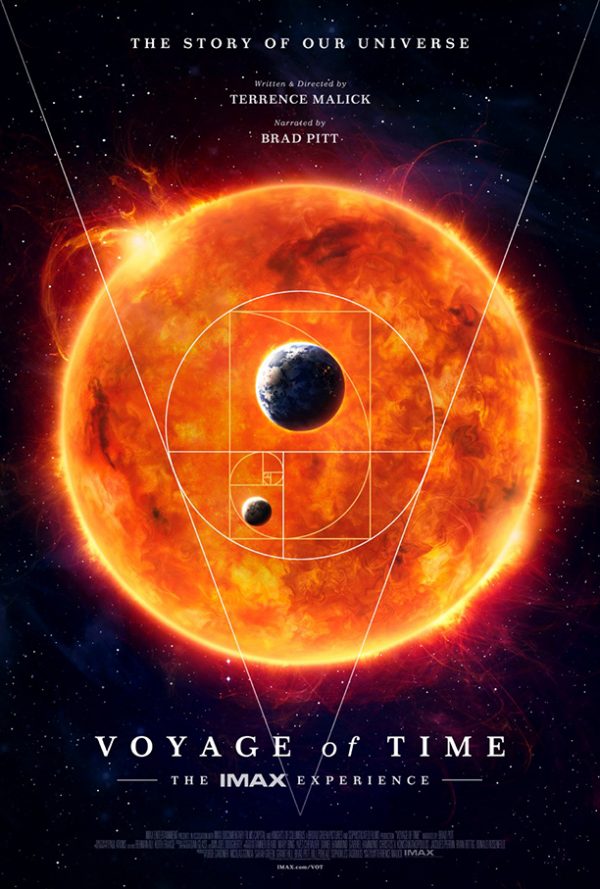 Voyage of Time: The IMAX Experience, the new film from American filmmaker Terrence Malick and IMAX Entertainment, will open at the Smithsonian's National Air and Space Museum's Lockheed Martin IMAX Theater Oct.7. The film—a 45-minute, giant-screen adventure narrated by Brad Pitt—immerses audiences directly into the story of the universe, time and life itself.  
Voyage of Time is a celebration of life and the history of the cosmos, transporting audiences into a vast yet up-close and personal journey that spans the eons from the Big Bang to the dinosaur age to the present human world and beyond. A film from one of American cinema's most acclaimed and visually exciting filmmakers, Terrance Malick's (The Thin Red Line, The Tree of Life), Voyage of Time represents the filmmaker's first foray into documentary storytelling. The film's panorama of awe-inspiring images will take the audience into the heart of monumental events never witnessed—from the birth of the stars and galaxies to the explosion of diverse life forms on planet Earth, including humankind—in immersive new ways that only IMAX can deliver.
This exclusive IMAX release of Voyage of Time is a unique film for Smithsonian Theaters, merging art and science in a one-of-a-kind cinematic experience. Voyage of Time will also be digitally remastered into the image and sound quality of the IMAX Experience. The crystal-clear images, coupled with customized theater geometry and powerful immersive audio, create an unique environment that will make audiences feel as if they are in the movie. The National Air and Space Museum's Lockheed Martin IMAX Theater now features laser digital projection providing audiences the best picture quality possible.
IMAX Entertainment presents in association with IMAX Documentary Films Capital and Knights of Columbus.
Tickets are now on sale and can be purchased online at www.si.edu/imax or at any of the Smithsonian IMAX box offices.
The Lockheed Martin Theater is located on the main floor of the National Air and Space Museum building on the National Mall in Washington, D.C., which is located at Sixth Street and Independence Avenue S.W. Attendance at both buildings combined exceeded 8 million in 2015, making it the most visited museum in America. The museum's research, collections, exhibitions and programs focus on aeronautical history, space history and planetary studies. Both buildings are open from 10 a.m. until 5:30 p.m. every day (closed Dec. 25).
# # #
SI-485-2016