Traditional Native American Design and Clothing Highlighted in New Dolls Exhibition
April 10, 2013
News Release
Addthis Share Tools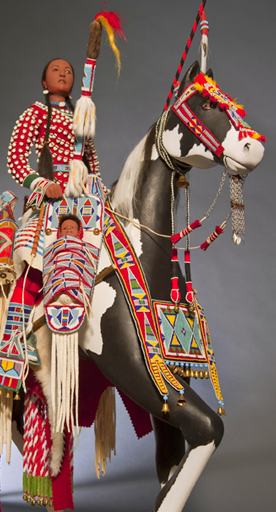 Visitors can celebrate the traditional attire of Plains and Plateau tribes through 23 colorful and meticulously handmade dolls in "Grand Procession: Dolls from the Charles and Valerie Diker Collection," an exhibition opening Wednesday, April 17, in the Sealaska Gallery at the Smithsonian's National Museum of the American Indian. The exhibition is on view through Jan. 5, 2014.
Typically made by Native women using buffalo hair, hide, porcupine quills and shells, figures like these have long served as both toys and teaching tools for American Indian communities. Outfitted in intricate regalia, these dolls—on loan from the Charles and Valerie Diker Collection—represent the work of five contemporary artists: Rhonda Holy Bear (Cheyenne River Lakota), Joyce Growing Thunder (Assiniboine/Sioux), Juanita Growing Thunder Fogarty (Assiniboine/Sioux), Jessa Rae Growing Thunder (Assiniboine/Sioux) and Jamie Okuma (Luiseño and Shoshone-Bannock). Their craftsmanship and attention to detail imbue these figures with a remarkable presence and power, turning a centuries-old tradition into a contemporary art form.
Through their brightly colored designs and accoutrements, each figure tells a unique story about a specific time and place. Holy Bear's Maternal Journey, for example, depicts how a Crow woman caring for twins would have appeared as she traveled with her family across the Plains. The mother's jingle dress and the horse's regalia pay tribute to the magnificent beadwork and impressive equestrian parades for which the Crow are known and the male and female twins in the travois represent a Lakota origin story.
For Holy Bear, seeing her dolls on display at the Smithsonian brings her work full circle. As a teenager who had just moved from South Dakota's Cheyenne Lakota Reservation to Chicago, she says she stayed connected to her indigenous roots by visiting the Plains Indians collection at the Field Museum. It was there that she discovered the delicate artistry of traditional dolls like the ones she creates today, though she has since replaced the cloth rags and cotton balls she used to make her first doll with century-old Venetian glass beads, turkey feathers, shells, animal hide and carved wood, among other materials.
Okuma's designs are not only inspired by historic photographs, but also from more unexpected places, like the carpet of the Bellagio hotel in Las Vegas. Describing the Shoshone as an eclectic tribe, Okuma says her artwork similarly embraces the traditions of many Native cultures.
"It must be passed on in my DNA because I don't want to be pigeon-holed or boxed-in because I'm only from this tribe," said Okuma. "There's so much beauty in Native peoples' culture, I just hope I can do it justice."
For the Growing Thunders, creating dolls has always been a family affair. Born on the Fort Peck Reservation in Montana, Joyce Growing Thunder began learning beadwork and quillwork as a 10-year-old child and later handed down these skills to her daughter, Juanita, and granddaughter, Jessica. One of the exhibition's objects, Buffalo Chaser, not only represents a collaboration between grandmother and granddaughter, it also symbolizes the passing of tradition from one generation to the next. Today, Joyce and Juanita continue to make dolls together at the same table in their shared household in California.
Throughout the exhibition's run, hands-on beading workshops will be offered in the museum's imagiNATIONS Activity Center, where children and adults alike can make their own daisy-chain bracelets. On Friday, April 19, and Saturday, April 20, Holy Bear and three generations of the Growing Thunder family will present a hands-on demonstration of their work at 11 a.m. and 2 p.m. in the museum's Potomac Atrium.
For more information and public programs, visit www.AmericanIndian.si.edu.
# # #
SI-139A-2013