Tom Brokaw Shares Stories of His Life Covering the World's News at Smithsonian Associates Event
November 5, 2015
News Release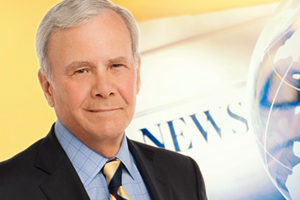 The Smithsonian Associates presents an evening with Tom Brokaw Tuesday, Dec. 1, at 6:45 p.m. in the University of the District of Columbia's Auditorium at 4200 Connecticut Ave. N.W. Brokaw will be interviewed by Steve Roberts, professor of politics and journalism at George Washington University.
Brokaw is perhaps best known as the celebrated anchor and managing editor of NBC Nightly News for 22 years. But he is also the winner of the Presidential Medal of Freedom, best-selling author of The Greatest Generation, seven-time Emmy winner, Peabody Award recipient, White House correspondent and Today show anchor.
In his new book, A Lucky Life Interrupted: A Memoir of Hope, Brokaw takes a look back at this quintessential American life of a kid from Webster, S.D., who found himself at the very center of world events every night for more than two decades. As one of the most revered newsmen, Brokaw shares the stories of his life covering the world's news.
Ticket prices for the Smithsonian Associates' presentation are $35 for general admission and $25 for Associate members. For tickets and information, the public may call (202) 633-3030 or visit www.smithsonianassociates.org.
The Smithsonian Associates—the largest museum-based education program in the world—produces vibrant educational and cultural programming inspired by the Smithsonian's research, collections and exhibitions. Each year more than 750 individual programs are presented to spark creativity and excite learning in people of all ages in the Washington, D.C., area and across the country. The Smithsonian Associates, which marks its 50th anniversary in 2015, brings the Smithsonian to life through seminars, performances, lectures, studio arts classes and local and regional study tours, as well as many engaging programs for children, including performances, museum sleepovers and summer day camps.
# # #
SI-506-2015