"A Thousand Kisses: Love Letters from the Archives of American Art"
January 24, 2008
News Release
Addthis Share Tools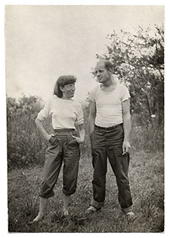 Love letters bring out the voyeur in most of us. These deeply personal communications have the power to make a reader blush or, at the very least, reveal a tender moment in the complex lives of others. "A Thousand Kisses: Love Letters from the Archives of American Art" will be on display Jan. 25 to May 30 in the Lawrence A. Fleischman Gallery.
This selection of affectionate communiqués and rare photographs gives insight into the lives of painters, sculptors, illustrators and others—their relationships, perceptions and creative energies—from the mid-19th to the late 20th century. Drawn from the collections of the Archives of American Art, there are letters, illustrated poems, collages and drawings that cover a range of intensity, from sexual passion between lovers to the devotion of a parent, and from the durable bonds of friendship to the enthusiasm of fans.
Featured in the exhibition is a passionate letter signed with a pink lipstick kiss from Frida Kahlo to Nickolas Muray, written while she recuperated in a Paris hospital; an illustrated letter declaring "My darling—I DO!" from Rockwell Kent to his future wife Frances Lee; and a poignant letter from Lee Krasner to Jackson Pollock, "I miss you & wish you were sharing this with me," she wrote only three weeks before Pollock died in an auto accident in New York while she was still in Europe.
The exhibition celebrates the publication "With Love: Artists' Letters and Illustrated Notes" by Liza Kirwin and Joan Lord, available from Collins Design.
About the Archives of American Art
The Archives of American Art is dedicated to the collection, preservation and study of papers and other primary records of the history of the visual arts in America. Its collections, comprising 16 million items, are the world's largest single source for such information. Visit the Archives Web site at www.aaa.si.edu.
The Archives of American Art Lawrence A. Fleischman Gallery is located on the first floor of the Donald W. Reynolds Center for American Art, at Eighth and F streets N.W., Washington, D.C. Hours are 11:30 a.m. to 7 p.m. daily. Admission is free.
SI-47-2008
Media Only
Mary Schlitt
(212) 399-5030