"Stamps of Approval" Exhibition Honors Pioneers of American Industrial Design Commemorated on New Stamps
November 8, 2011
News Release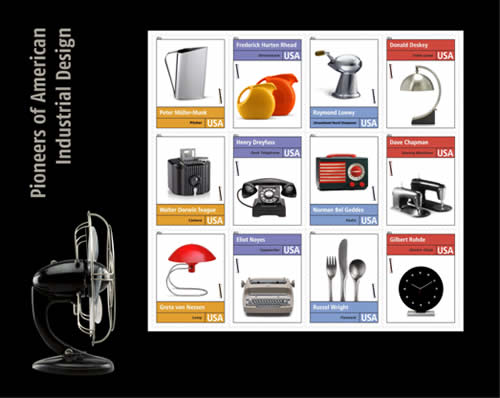 A traveling exhibition featuring the work of American industrial designers recognized by the U.S. Postal Service in a new series of Forever stamps will open at the Smithsonian Castle in Washington, D.C. Nov. 15. "Stamps of Approval" includes nine objects from the collection of George R. Kravis II, which helped shaped the look of everyday life in the 20th century. The exhibition will be on view 8:30 a.m. to 5:30 p.m. daily in the Schermer Hall through April 29, 2012.
Organized by the Smithsonian's Cooper-Hewitt, National Design Museum with the Philbrook Museum of Art, the exhibition was on view at Cooper-Hewitt in New York and will continue on to the Philbrook Museum of Art next year.
"The groundbreaking work of these industrial designers transformed the look of homes and offices across the country," said Caroline Baumann, associate director of the museum. "Following the successful stamp dedication ceremony at Cooper-Hewitt earlier this spring, this exhibition further celebrates the integral role these industrial designers played in American manufacturing and daily life."
Industrial design emerged as a profession in the United States in the 1920s, and gained prominence during the Great Depression. The streamlined objects created by the designers of this period are characterized by horizontal lines and rounded shapes that evoked a sense of speed and efficiency and projected an image of progress and affluence. Modern design became still more popular after World War II, when manufactures again turned to industrial designers to focus on mass production for the American consumer.
The works on view in "Stamps of Approval" are:
Henry Dreyfuss' 1937 Model 302 Bell telephone, which set the standard for telephone design in the U.S. Dreyfuss was among the first to apply the principles of ergonomics to product design and considered the user to be the center and focus of his work.
Norman Bel Geddes' 1940 "Patriot" radio, which featured a red-and-white grille representative of the American flag. Geddes was a noted champion of streamlining and created visionary new looks for cars, trains, planes and buildings, in addition to everyday objects.
Peter Müller-Munk's 1935 "Normandie" pitcher, whose simple curves and form were characteristic of the streamlined modern style. The pitcher was constructed of chromium-plated brass, an alternative to silver that was easier to care for and more affordable.
Eliot Noyes' 1961 "Selectric" typewriter for IBM, for whom he designed buildings, interiors and a range of office equipment. Noyes encouraged corporate clients to adopt long-lasting design principles, rather than changing a product's design every year.
Frederick Hurten Rhead's 1936 "Fiesta" pitcher, from the widely popular dinnerware, which transformed the look of domestic interiors across America. Introduced by the Homer Laughlin China Co., the ceramic tableware was moderately priced and available in brightly colored and durable glazes.
Walter Dorwin Teague's 1934 "Baby Brownie" camera made of black Bakelite with Art Déco details on the box-shaped body. Teague viewed industrial design as both an art and an integral part of contemporary life, and was one of the founders of the American Society of Industrial Designers.
Greta von Nessen's 1951 "Anywhere" lamp, which featured a tubular aluminum base and an adjustable shade made of enameled metal. The versatile lamp could be mounted on the wall, suspended from the ceiling or used on the table.
Russel Wright's 1951 "Highlight/Pinch" flatware, which featured an organically shaped handle and no applied ornament. Wright created affordable modern furniture and tableware characterized by minimal but elegant forms. In addition to the flatware, the exhibition will also include a design drawing by Wright from the museum's collection.
About the "Pioneers of American Industrial Design" Stamp Pane
Honored by the U.S. Postal Service as "Pioneers of American Industrial Design" are Dave Chapman, Donald Deskey, Henry Dreyfuss, Norman Bel Geddes, Raymond Loewy, Peter Müller-Munk, Eliot Noyes, Frederick Hurten Rhead, Gilbert Rohde, Walter Dorwin Teague, Greta von Nessen and Russel Wright. Derry Noyes, whose father is honored on the sheet of stamps, was the art director. The stamps were dedicated June 29 at a ceremony at Cooper-Hewitt. Pioneers of American Industrial Design Forever stamps are available at most U.S. Post Offices or online at www.usps.com/shop. More information is available at http://about.usps.com/news/national-releases/2011/pr11_078.htm.
# # #
SI-482-2011